A Maryland police officer's police powers were suspended after video showing him slamming a suspect's head to the ground Wednesday was posted on Twitter.
The officer, identified as Kevin Moris, is seen driving his knee into the head of a man, who appears to have his hands behind his back.
"I see the officers who have made an arrest and are struggling with the subject, and then I see the officer do some extracurricular activity as a result, the use of force," acting Montgomery County Police Chief Marcus Jones said.
"There's no justification for that," County Executive Marc Elrich said.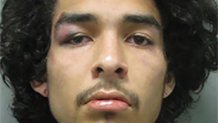 The man, 19-year-old Arnaldo Pesoa of Silver Spring, was suspected of selling psilocybin mushrooms in the Aspen Hill area, police said. He allegedly sold mushrooms to an undercover officer in a McDonald's in the Aspen Hill Shopping Center.
Pesoa resisted arrest and had to be removed from the restaurant, police said.
Moris' use of force is under investigation, police said.
"It gives me some pause and something we seriously need to take a look at," Jones said.
Local
Washington, D.C., Maryland and Virginia local news, events and information
Moris has been assigned to administrative duties.
Pesoa's family would not go on camera but said they will seek justice.
Pesoa was charged with possession of a controlled dangerous substance, attempted distribution of a controlled dangerous substance, resisting arrest and second-degree assault and released on $5,000 bond.
Montgomery County Council President Nancy Navarro and Vice President Sidney Katz, the chair of the Public Safety Committee released a statement saying in part, "We have asked that Chief Jones appear before the Montgomery County Council as soon as possible in July to brief us on this incident and share with us his strategies for community-police relations, including deescalation training strategies, to make our county a safe place for all our residents."