A 19-year-old has been sentenced to spend nearly 60 years in prison for killing an 18-year-old on a rural road in Maryland after two groups of teenagers left a party and argued.
Tyreq Kaylin Tilghman, of Waldorf, Maryland, was sentenced to 58 years in prison for the murder of 18-year-old Mason Atkins and an assault on Nicholas Brennan.
Atkins, a volunteer fire cadet, died after Tilghman shot him and Brennan on Sept. 25, 2016 in La Plata, Maryland.
Three other teens received lesser sentences for their role in the shooting.
At Tilghman's sentencing, prosecutor John Stackhouse argued for a lengthy sentence.
"Tilghman took his brother's gun out of a safe, then took the gun to a party, then gets out of a car with the gun, then kills somebody and almost kills somebody else," he said, according to a statement from Charles County officials. "He made the choice to fire that gun at point blank range into a defenseless Mason Atkins. Tilghman needs to be held accountable for the life he senselessly took and that means spending as much of his life in jail as the statutes allows."
Kevin Averell Jones, 19, of Waldorf, was sentenced to seven years in the second-degree assault of Brennan.
Local
Washington, D.C., Maryland and Virginia local news, events and information
Talivah Laraih Salahuddin and Shanya Imari Milstead, who were both 17 at the time of the shooting, were both sentenced to a 10-year period of incarceration with all of the time suspended except for the time they had served prior to sentencing in the second-degree assault of Brennan.

All four teens had previously been charged with murder in the death of Atkins.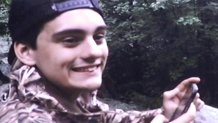 Before Atkins was killed, he and several friends went uninvited to an outdoor party on Mona Farm Place in La Plata, police said. They were asked to leave, and drove about a half-mile away, toward Crain Highway (Route 301).
Then, Atkins and his friends stopped their car on the side of the dirt road and the four suspects drove past them, police said. That group also had been asked to leave the party. They began to argue, police said.
The suspects began hitting Atkins and his friends, who sprayed the suspects with pepper spray to try to get them away, police said.
Tilghman then pulled out a handgun and fired several shots into the car, hitting Atkins and Brennen, police said.
The suspects fled, and the victims drove at least 5 miles away, to Popes Creek Road in Newburg, Maryland, police said. The victims then called 911, police said.
Brennen survived, but Atkins was pronounced dead.
"Guy came over and started attacking my son. My son sprayed him with mace and the coward shot him," Mac Atkins said he was told. "While he was in the car. He never got out of the car. They were beating him up in the car."
Atkins was a cadet at the Deale Volunteer Fire Department, his father said. He was learning to be an auto body mechanic and made friends easily.
"Good kid. Best friend to every kid he's ever met. Probably been 12 kids came by here saying Mason was their best friend. I don't know how he can be best friends with so many people, but he managed," Mac Atkins said.
Atkins attended Southern High School and liked to hunt, fish and ride dirt bikes, according to his obituary.
The investigation was stalled until a detective had an important revelation: "If I had been pepper-sprayed, I would want to wash my eyes."
Police checked surveillance footage at a gas station about 3 miles from the crime scene.
The footage from one camera showed "a young woman walking into the gas station and purchasing two bottles of water," police spokeswoman Diane Richardson said.
The footage from a second camera showed "two males getting out of a black car and rinsing their face off with water," she said.
"It was an excellent lead that helped bring the case together," Richardson said.
[NATL] Top News Photos: Pope Visits Japan, and More
Prosecutor Sarah Freeman spoke in court about the decision the young women made the night of the murder.
"Their present predicament should be a lesson for everyone, especially young folks, that they need to think about the consequences of their actions and see beyond the moment directly in front of them," she said.