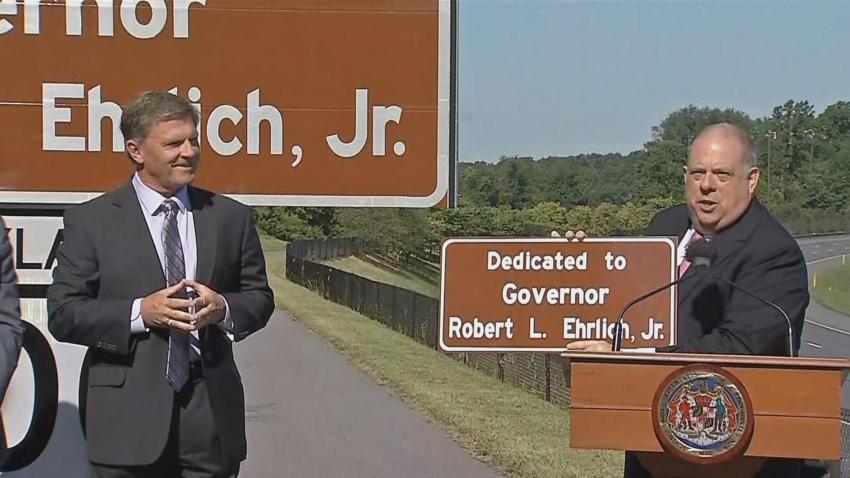 Republican Maryland Gov. Larry Hogan announced Thursday dedication of the Intercounty Connector (ICC) to former Republican Gov. Robert L. Ehrlich, Jr.
Hogan credits Ehrlich and his administration for bringing the ICC to life.
"Over the decades, plans for the ICC started – and stalled – countless times, but it wasn't until Gov. Ehrlich made it a top priority that the Intercounty Connector Project was finally revived," Hogan said. "The ICC was the very first all-electronic toll road in Maryland, and it is one of the most significant transportation projects in state history."
Since its opening in 2011, the ICC has reduced congestion and shortened commutes for Maryland motorists.
Hogan called the dedication "a real personal pleasure." The current governor worked in Ehrlich's cabinet from 2003 to 2007.
"I would like to sincerely thank Gov. Hogan for this wonderful dedication," said Ehrlich. "Many Marylanders thought the ICC would never be built."
Planning efforts for the ICC date to the 1950s, but the project never got off the ground until Ehrlich directed the Maryland Department of Transportation's State Highway Administration to begin construction. Ehrlich made a request to President George W. Bush to secure funding, and garnered bipartisan support to make the 17-mile road a reality.
"It was certainly a difficult task, against all odds, but it got done through the hard work of professionals who contributed to the planning, financing, and construction of this magnificent road," Ehrlich said. He also thanked Doug Duncan, a Democrat who challenged Ehrlich in the 2006 Maryland gubernatorial election after serving as Montgomery County executive from 1994 to 2006.
"Gov. Ehrlich's direction to bring the ICC/MD 200 to fruition directly benefits MDTA customers with a shorter, safer, less congested and more reliable driving option," said MDTA Executive Director Kevin C. Reigrut.