Amaya Scheer and her family were overjoyed the 11-year-old would be featured in the latest issue of "American Girl" magazine -- but they were heartbroken when a conservative group called for a boycott of the publication for showing a family with two dads.
The November/December issue of the magazine shows exuberant Amaya, who spoke about the charity her family founded, which gives foster children travel bags filled with clothing and toiletries. She, her father Rob Scheer and her three siblings all previously lived in foster care.
Rob Scheer said he was stunned when a friend called to tell him an anti-gay group was criticizing "American Girl" and had published a family photo of the Scheers, who live in Darnestown, Maryland.
"The only thing ["American Girl"] did was they showed an amazing, happy family," he said. "I was shocked that this wasn't a group of men ... these were moms, moms who are looking at a picture of our children and making a judgement on them."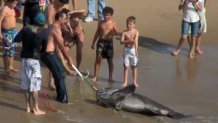 The website OneMillionMoms.com, which is an online project of the Mississippi-based American Family Association, urged supporters to cancel their subscriptions to the magazine, stop buying American Girl dolls and other products, and also boycott parent company Mattel.
"Scripture says multiple times that homosexuality is wrong, and God will not tolerate this sinful nature," the website says. "'American Girl' is attempting to desensitize our youth by featuring a family with two dads."
Local
Washington, D.C., Maryland and Virginia local news, events and information
Rob and Reece Scheer said their family has seen an outpouring of love since the online post was published Oct. 29.
"On Sunday, our congregation all stood to say that they loved us, they support us and that we are just like any other family," Rob Scheer said.
"That's the only thing we ask for. We don't ask for any kind of special rights," he said. "Don't treat us any differently, just realize that we're just like everybody else."