A U.S. serviceman who was missing in action for nearly 50 years after his plane was shot down during the Vietnam War was laid to rest in Arlington National Cemetery on Wednesday, a day after his widow's memorial service.
Marine Corps Reserve 1st Lt. William C. Ryan Jr. was buried with full honors, just a day before the 48th anniversary of when his plane went down. A huge crowd followed his casket.
The day after Ryan's family learned his remains finally had been found, they learned his widow, Judith Azzara, had cancer. The former Fairfax County principal died April 11. She was buried Tuesday, a day before her husband's burial.
"I did her eulogy yesterday. We had her funeral yesterday in Reston, at St. John Neumann, and today, my dad," Azzara and Ryan's son, Mike Ryan, said Wednesday at Arlington National Cemetery. He was just a day from his first birthday when his father was killed.
Ryan, a 25-year-old from Hoboken, New Jersey, was on a combat mission over Laos on May 11, 1969, when his F-4B was hit by enemy fire.
The pilot lost control and called several times for Ryan, who was the radar intercept officer, but he received no response, the Department of Defense's POW/MIA Accounting Agency said.
Local
Washington, D.C., Maryland and Virginia local news, events and information
The pilot ejected, and the plane crashed. The pilot was rescued. But "the location of the crash site precluded a search-and-recovery effort" for Ryan.
He was declared dead that day.
From January 1990 to May 2012, teams from the U.S., Laos and Vietnam interviewed witnesses to the crash, gathering information on Ryan's whereabouts.
From May 2012 to January 2016, teams made six trips to excavate the site of the crash. They found possible human remains. In February 2016, the remains were sent to a lab for testing.
Scientists used dental records, including isotope analysis, to try to figure out whose remains they had found. They were Ryan's.
"They excavated the site seven times and finally found him and brought him home," Mike Ryan said.
The Department of Defense announced to the public on May 4 that Ryan's remains had been found.
The day after the family heard the news they had awaited for so long, they learned Azzara was sick.
"She was diagnosed with colon cancer that had already metastasized to her liver, so we lost her within weeks," Mike Ryan said.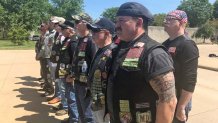 He thanked everyone who paid their respects to his father.
"For him to be memorialized this way and honored this way here by the Marines, by Arlington National Cemetery, it was amazing," Mike Ryan said.

There are 1,611 American servicemen and civilians still unaccounted for from the Vietnam War, the Department of Defense says.