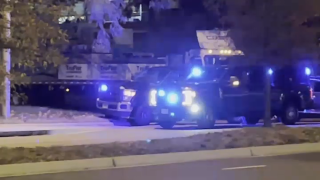 A 43-year-old man is dead after a workplace accident at a Fairfax, Virginia, Home Depot store, police said.
The man, identified as Paul Gato, of Woodbridge, was operating a forklift about 2:45 a.m. Tuesday at the store on Merrilee Drive off Lee Highway, Fairfax County Police said.
Gato was unloading supplies from a delivery truck when the forklift fell and trapped him, according to a preliminary investigation. The driver of the truck heard the crash, saw Gato under the forklift and called emergency services and police, authorities said.
Gato died at the scene. At this time, there's no indication of criminal activity, police said.
In a statement, a spokeswoman for Home Depot said Gato had worked for the company for nine years.
"Paul was a happy, friendly and caring person who was always there when someone needed a hand," said spokesperson Margaret Smith. "We're heartbroken by the loss of our friend and fellow associate of nine years, and his family are in our prayers."
The investigation is ongoing. An autopsy is underway to determine the cause of death.
Stay with News4 for more details on this developing story.