A man inappropriately touched a girl and tried to touch her older sister in Annandale, Fairfax County police said.
The girls, 11 and 13, were taking out the trash in the 7900 block of Charles Thomson Lane just blocks from Braddock Elementary School when the man approached them Saturday about 6:30 p.m., police said.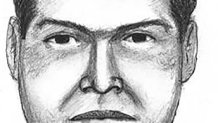 He assaulted the 11-year-old then tried to touch the other, but she fought him off and he fled.
"The fighting and the noise that was made from both girls kind of scared and alarmed him and made him run away," Fairfax County police Officer Kent Bailey said.
The girls' mother and stepdad believe the man wanted to take the girls.
The man is described as Hispanic, between 30 and 40 years old, 5-feet-4-inches to 5-feet-6-inches tall, with a heavy build and short black hair. He was wearing a green vest, a plaid long-sleeve shirt and blue jeans.
Local
Washington, D.C., Maryland and Virginia local news, events and information
Anyone with information about this case should call police at 703-246-7800.