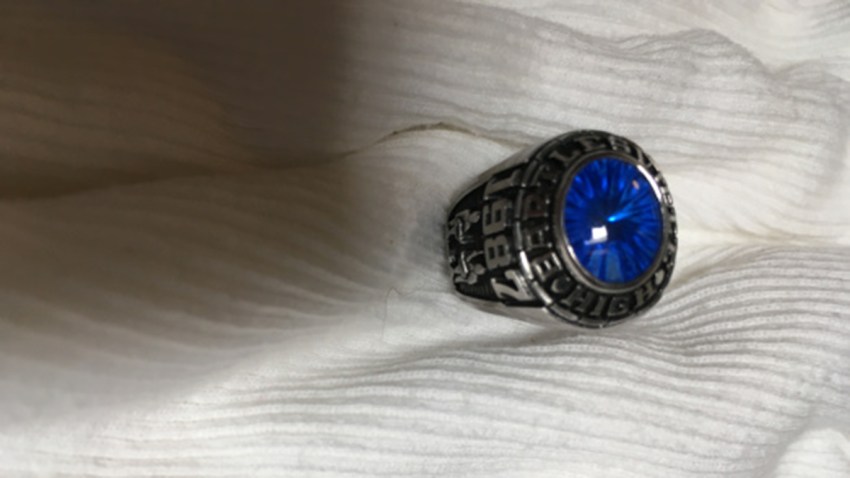 A man whose 1987 class ring was stolen finally has it back, thanks to a Fairfax County evidence technician who decided to try to track down its owner.
Greg McCarthy graduated from Bartlesville High School in Oklahoma back in 1987. In 2014, he discovered his class ring and some money were missing from his home in Burke, Virginia.
"We got robbed," McCarthy said on a Skype. "Needless to say, the money was never found. After a day or so, [I realized] my class ring from high school was missing, with the date of 1987, when I graduated 29 years ago."
Then, in March of this year, Fairfax County Police were called to investigate a vehicle break-in in Burke.
An officer found in a glove left behind in the car -- and inside the glove was that 1987 class ring, Fairfax County Police said. The victim of the car break-in had never seen the ring before, which was packaged as evidence.
It wasn't until a few months later that Evidence and Property Technician David Patterson rediscovered the ring and began looking into its ownership, police said.
"I looked on the inside of the ring and there were three initials. The name 'Greg' was on the outside of the ring," Patterson said in a YouTube video posted by Fairfax Police.
He used these clues to call the high school in Oklahoma where the ring was from and learned the identity of the owner: Greg McCarthy, whose parents still lived in the town. McCarthy's parents contacted their son to tell him the ring had been found.
McCarthy, who is a colonel in the Marines Corps and currently stationed in Africa, said he was glad to finally have the ring back in a Skype call with Fairfax Police.
"How anybody traced it back to me, I have no idea, but I'm most grateful," he said.