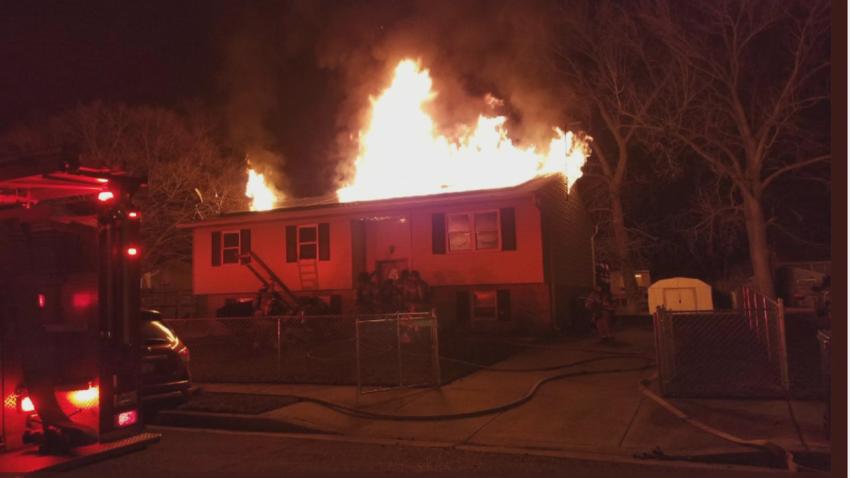 A 70-year-old man died after he was pulled from a burning home in Prince George's County, Maryland, late Sunday night.
Neighbors saw the fire coming from the roof of the home in the 4200 block of Monroe Street in Colmar Manor just after 10 p.m. Sunday.
"They did everything they possibly could including banging on the front door of the house, calling 911 and reporting what they were seeing but there was nothing more they could do," according to a release from Prince George's County Fire & EMS officials Monday.
Officials have identified the victim as William Mobley.

Firefighters found Mobley inside the home, where fire had already reached into the attic and through the roof. Mobley was unconscious as he was treated at the scene and was then rushed to a local hospital in critical condition.
Mobley died a short time later despite "the very best efforts of firefighters, medics and hospital staff," Prince George's County Fire spokesman Mark Brady said in a tweet shortly before 8 a.m. Monday.
Brady said the cause of the fire is undetermined. The blaze caused about $150,000 in damage, he said.
Crews found no smoke alarms inside the home, fire officials said in a release.
Officials are reminding residents to have 10-year smoke alarms on every level of their homes, especially in hallways just outside of sleeping areas and in every bedroom.
Officials also recommend testing alarms on the first day of every month.
Prince George's County residents who can't afford a 10-year smoke alarm in their homes should call 311 and ask about the free smoke alarm installation program, officials said.
Firefighters were planning to return to the neighborhood Monday afternoon to go door-to-door, asking to check smoke alarms and answering questions from residents, Brady said.
Fire officials previously said the house was in Brentwood, Maryland.