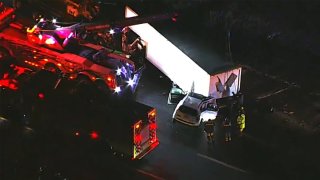 Northbound lanes of Interstate 95 before Joplin in Triangle, Virginia, were closed Wednesday morning after a fatal crash, authorities said.
About 1:15 a.m. a truck contracted by the Virginia Department of Transportation to treat roads was northbound in the right lane of I-95 near mile marker 149 when it was struck from behind by a 2002 Dodge Ram pulling a fifth-wheel trailer, Virginia State Police said. The contracted truck wasn't treating roads at the time but had its lights activated.
The crash caused the lights on Dodge's trailer to turn off, and minutes later, a 2018 Subaru swerved to avoid the trailer but struck it anyway and caught fire, police said.
The first state trooper to reach the scene pulled the driver of the Subaru out of the car, police said.
The passenger of the Dodge, 42-year-old Chad D. Shifflett of Harrisburg, Pennsylvania, died at the scene, police said. The drivers of the Dodge and the Subaru were taken to hospitals with serious injuries. The driver of the contract truck was treated at a hospital for minor injuries.
Neither the driver nor the passenger in the Dodge was wearing a seatbelt.
A backup stretching over 9 miles formed behind the multi-vehicle crash, causing heavy traffic near Marine Base Quantico. The closure was lifted around 9 a.m.
Transportation authorities warned of icy spots on roads Wednesday morning and urged drivers to exercise caution.
The cause of the crash between the contracted truck and the Dodge remains under investigation, but weather does not appear to be the cause, police said. Charges are pending.