It's called DIPG, and chances are, it's one of the worst cancers you've never heard of. And it's one that hits children. That's why DIPG Awareness Day — May 17 — has been created.
It's also why a Herndon family is sharing their battle against this terrible illness.
Maddie Hartman had been a normal kindergartner. She especially loved to dance. It all changed over the course of three days in January.
Her daycare called to say Maddie had fallen ill.
"When I got to daycare, I thought my daughter had a stroke," her father, Nathan Hartman, recalled. "The left side of her face was limp; her speech was slurred; her arm would not move. It was almost hanging off her body."
The diagnosis came about week later: Maddie had Diffuse Intrinsic Pontine Glioma (DIPG), an aggressive type of tumor that attacks the brain stem, impacting speech, vision and mobility. Maddie is just one of between 200 and 400 children who will get the diagnosis this year.
Her mom created a photo display to show the cancer's rapid progression, with steroids also taking their toll on her body.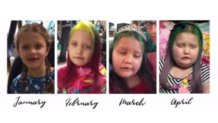 "Nobody knows about DIPG," her father said. "I didn't know [about] DIPG until we were in the hospital in this situation, quickly googling DIPG to find out what it was. And with Maddie every step has been immediate — no symptoms to all the way in three days."
Local
Washington, D.C., Maryland and Virginia local news, events and information
Now the Hartmans are joining an effort to put a spotlight on the disease. The first DIPG Awareness Day was designated in 2016 by Maryland Gov. Larry Hogan, when the family of a Bethesda boy — Michael Mosier — began the push to educate more people. The day is held May 17 to mark the date that Michael passed away.
Treatment hasn't really advanced in the 35 years since DIPG was named, a fact that frustrates both Michael's parents and Maddie's.
Their goal is to "get people talking and get funding to it to try to advance the research," Nathan Hartman said.
As Maddie's dad, mom and stepdad join the effort for more funding and awareness, their biggest focus is bringing joy to Maddie's life. There was the Make-A-Wish Foundation trip to Disney, as well as a "wedding," when Maddie "married" her sweetheart from daycare. She has fun picking out her nail polish, too.
"We are blessed every day that we wake up and Maddie is still progressing and doing well, and that is our hope and our plan, is to continue make every day as imaginable and amazing as possible," Nathan Hartman said.
Later this month, on May 26, a fundraising run in honor of Maddie will be held at Westfield Montgomery Mall in Bethesda, Maryland.