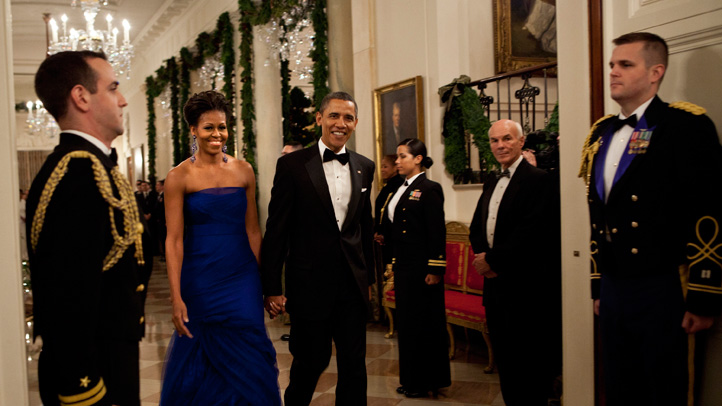 President Barack Obama and a large cast of artists honored five entertainment icons who influenced American culture through the arts.
Actress Meryl Streep, pop singer Neil Diamond, Broadway singer Barbara Cook, famed cellist Yo-Yo Ma, and jazz saxophonist Sonny Rollins received the nation's top award Sunday night.
Caroline Kennedy hosted the show as part of a living memorial to her father, John F. Kennedy.
Smokey Robinson sang "Sweet Caroline" with help from Kennedy and fans brought in from Boston's Fenway Park, where it's a favorite anthem.
Lionel Richie, who performed the Neil Diamond song "I Am... I Said," told the Associated Press he got into the music business because he wanted to be Diamond.
"He's a great storyteller," Richie said. "He's not an acrobatic singer. Basically he told the story in a very simple voice."
Secretary of State Hillary Rodham Clinton flew home between visits to Myanmar and Germany to honor the artists with a dinner Saturday night. After visiting the isolated Southeast Asian country also known as Burma, Clinton said such U.S. artists have worldwide influence by using their freedom of creativity.
"You may not know it, but somewhere in a little tiny room in Burma or even in North Korea, someone is desperately trying to hear you or to see you, to experience you," Clinton said. "And if they are lucky enough to make that connection, it can literally change lives and countries."
Copyright AP - Associated Press