A 17-year-old resident of Loudoun County, Virginia is a finalist in Duck Tape's annual "Stuck at Prom" Scholarship Contest, in which high school students compete to make the best possible prom wear out of duct tape.
Christina Mellott, now a rising senior at Freedom High School, entered the contest this past school year after hearing about it from friends and family.
Mellott, who has been designing clothes for three to four years already, got her start in design after receiving a sewing machine for Christmas.
Her friends and family thought she may be able to clinch the Duck Tape competition because they knew about her design hobby. Mellott took up the challenge, thinking it would be a fun challenge to use tape to make a dress.
"I thought it would be a unique material to work with," she said.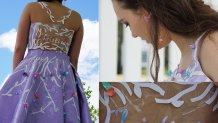 Mellott's goal when she started working on her piece for the contest was to try and make a dress that people wouldn't realize was duct tape, and she says she achieved that goal.
Local
Washington, D.C., Maryland and Virginia local news, events and information
"I had to tell some people, but when I did they were really surprised," Mellott said.
The dress, inspired by the flowers and vines surrounding a small creek she has in her backyard, took her entire spring break to make, and 36 rolls of duct tape.
"It took well over 80 hours," Mellott said.
The competition began in 2001, according to the Duck Tape website, but the rules of the contest changed recently. While competitors used to have to get their dates to make a duct-tape outfit as well, and could only enter as pairs, this year the competition has two categories, "dress" and "tux."
Competitors can now enter on their own, and the grand prize winner in each category takes home $10,000. There are also four runner-up winners in both the dress and tux categories, who will each win $500 and a Prize Pack worth $100.
Voting for the contest ended on June 28, and the winners will be announced on or around July 9.
Good luck, Christina! You can vote for her here.