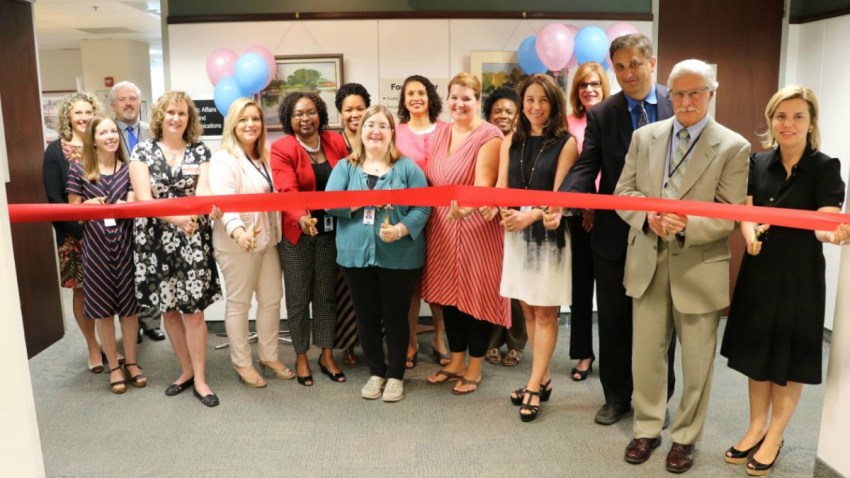 Loudoun County says it is the first county government in Viriginia to make good on a promise to new moms who have returned to government work: That they will get the support they need to keep breastfeeding.
Loudoun officials cut the ribbon on a new Nursing Moms' Lounge at the Loudoun County Government Center Tuesday.
The new lounge provides employees who are new mothers with a space to breastfeed their children. It comes after the July 1 implementation of the county's Employee Lactation Support Program; Loudoun is the first county government in Virginia to implement this program, according to the Virginia Department of Health.
The August opening coincides with National Breastfeeding Awareness Month.
"In addition to using the Nursing Moms Room, our employees are able to attend breastfeeding support classes and groups, and to receive physician lactation support and breastfeeding supplies as part of their insurance coverage," Director of Human Resources Jeanette Green said.
Loudoun County's program is modeled after the U.S. Department of Health and Human Services' Business Case for Breastfeeding, which follows supportive practices including providing flexible breaks and access to educational materials.
"Helping mothers reach their breastfeeding goals and increasing duration of breastfeeding has tremendous impact on the health and well-being of our community," Dr. Janine Rethy of the Loudoun County Health Department said.
Loudoun Breastfeeding Coalition Chair Sharon Corriveau said she hopes that more mothers in the community will return to work after giving birth.
"We are pleased that Loudoun County Government has implemented this comprehensive program and we hope that all businesses in our county will use the program as a model and offer breastfeeding support to their employees," Corriveau said.