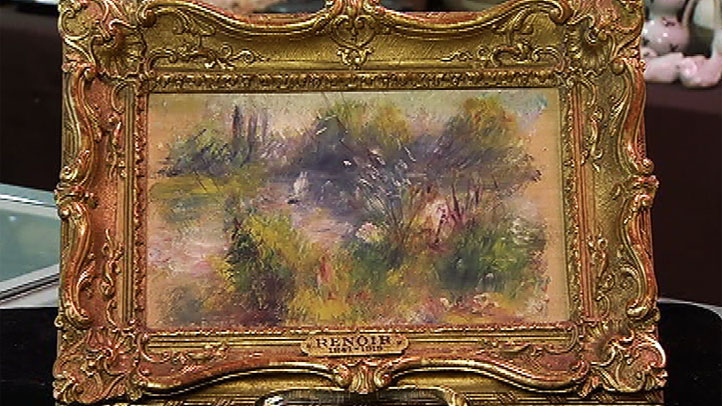 A Renoir painting returns to public display this weekend for the first time in more than 60 years since it was stolen from the Baltimore Museum of Art.

Pierre-Auguste Renoir's painting "On the Shore of the Seine,'' dated about 1879, became the subject of a dramatic legal dispute after Marcia "Martha" Fuqua, of Loudoun County, Va., tried to sell the painting, but the auction house pulled the listing after the Baltimore Museum of Art said it had been stolen more than 60 years ago.
Fuqua claimed she bought it at a flea market for $7.
Others, including her brother, disputed the story.
"[Our mother has] had it for a long time, probably 50 or 60 years," Fuqua's brother, Matt, told the Washington Post. "My girlfriend and her friends were cleaning out my mom's studio, and my sister stepped in and said, 'Wow, I want this.' All I know is my sister didn't just go buy it at a flea market. ...My sister kind of snagged it out of my mom's art studio."
The 1879 painting's value today is estimated at $75,000 to $100,000.
It was sold in 1926 to Herbert L. May, whose wife, Saidie, loaned it to the museum in 1937. It was there for about 14 years before it was stolen, according to records uncovered by the Baltimore Police Department. An insurer had paid $2,500 for the loss.

Now that a judge has awarded ownership of the small painting to the Baltimore museum, it will be the centerpiece of a special exhibition March 30 through July 20.

The exhibition, "The Renoir Returns,'' will reunite the small painting with more than 20 other artworks from the collection of Baltimore arts patron Saidie May. She bequeathed her collection to the museum.
Copyright AP - Associated Press