A year after an explosion rocked her family's home, Maximina Rios still jumps at the sound of a door slamming.
She and several members of her family were together when natural gas fueled the blast and fire at the Flower Branch apartment complex in Silver Spring, Maryland, just before midnight on Aug. 10, 2016. Seven people, including two children were killed, and almost 40 other people were hurt.
Rios and her family, including her granddaughters Chelsea, 8, and Zuleyca, 6, all made it out safely. But they all still live in fear, Rios told News4 in the days before the first anniversary of the disaster.
"After that, any noise scares you. If that door over there closes too hard, the apartments tremble, so you're living in fear," she said in Spanish.
Rios, 59, and her family decided to stay in the complex where she has lived for the past nine years. They live in a unit that's much like the unit where they lived in the building that was destroyed, along with everything they owned.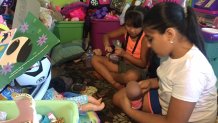 Now, Rios, who immigrated from Honduras and works in child care, avoids the site of their former home.
"When I walk past there, a sadness comes over me that could bring me to tears because I remember how we used to live, the things we used to do. We would sit and watch the cars go by, and now all I see is loneliness," she said.
As Rios and her family rushed outside to safety, first responders and interpreters hurried to help. The Latino advocacy organization CASA de Maryland collected donations of food and clothing. Good Samaritans donated more than $820,000 to help the affected families.
"In the middle of this tragedy, we saw the good of humanity of people from all around," said Gustavo Torres, CASA's executive director.
Local
Washington, D.C., Maryland and Virginia local news, events and information
Kay Apartment Communities, which runs the Flower Branch apartments, also assisted the families, as they noted on their website.
Rios and her family were grateful for the help in the wake of the tragedy. Now, she chooses resilience, focusing on tomorrow and the brighter days ahead.