The liquor store customer shot and killed by a man fatally shot by police moments later is remembered as a good guy who was well liked in the community.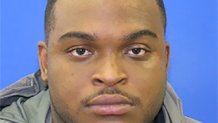 David Edward Hall walked into a liquor store at the corner of Livingston Road and Oxon Hill Road in a commercial area of Oxon Hill, Maryland, about 1:15 p.m. Wednesday and shot Ralland Whitfield multiple times, Prince George's County police said.
An officer in the area who heard gunfire got out of his cruiser, ran to the scene and saw Hall running toward him from the store, police said. When Hall ignored orders to stop, the officer shot and killed him.
Hall's gun was found next to him, police said.
A friend named Jeremiah said he saw the 25-year-old Whitfield, who went by the name Pine, just an hour before he was killed.
"He made me feel family when I was little," he said. "You know, he used to help me when people used to pick on me back in high school."
Local
Washington, D.C., Maryland and Virginia local news, events and information
"He was known in the community; he was a good kid," said Alex Mozingo, an employee of the liquor store. "Everybody liked him."
He wasn't there when Whitfield was shot, but the owners were.
"Couldn't believe it because he's a good dude," Mozingo said. "He's not a trouble maker. He'd be the type of dude to try to break fights up."
Police said Whitfield and Hall, 27, knew each other, but the motive remains under investigation. The gunman also was known to police.
Anyone with information relevant to the case should call police at 301-772-4925 or leave anonymous tips with Crime Solvers at 866-411-TIPS (8477).
The officer, 10-year veteran of the force Cpl. Andrew McKenney, was placed on administrative leave per department protocol.