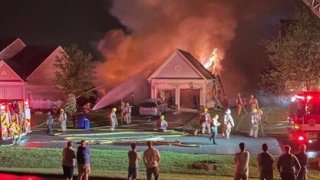 A lightning strike likely sparked a fire that engulfed a Maryland home, forcing out a family, firefighters say.
The two-alarm blaze broke out amid strong thunderstorms Monday night, Montgomery County Fire and Rescue spokesperson Pete Piringer said.
The home on Sweet Cherry Lane in Damascus was fully engulfed in flames when firefighters arrived, authorities said.
One firefighter got a minor injury, authorities said. No other injuries were reported.
The heat damaged neighboring homes.
Lightning struck another home in Potomac, Maryland, on Monday night. The fire alarm went off, but there was no blaze, authorities said.