When Fats Domino came to Carr's Beach in Annapolis, Maryland, traffic was backed up for 30 miles. When James Brown came, he performed like only he could. And when Jackie Wilson took the stage, he left women in the audience swooning.
"Jackie Wilson was a ladies' man, and Jackie Wilson had this thing about coming off the side of the stage and kissing women passionately," Carroll "Mr. C" Hynson laughed.
From the 1920s to the 1960s, Carr's was one of the few beaches in the D.C. area where African Americans could swim freely and without the fear of discrimination.
"We couldn't go anywhere else. We weren't allowed anywhere else. We weren't allowed at Sandy Point, Bay Ridge or any of the other local beaches," Hynson said.
During the week, the beach was a place for families and church groups. But on Sunday, crowds of people would press against the stage at the beach's pavilion for WANN's "Bandstand on the Beach" broadcast.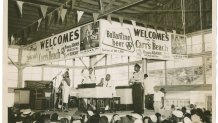 "Sunday was the day to get in there. You had to go through a gate, and of course, everybody tried to put people in the trunk of their car and go through the gate," Hynson recalled. "One of the best groups that ever came there was from one of the high school in Washington, D.C., called the El Corols. That was a heck of a band for teenagers."
Hynson, an Annapolis native, started working for WANN and Maryland legend Charles "Hoppy" Adams in the 1960s.
"My job Sunday was to be a board operator for Hoppy Adams, because we broadcasted live at 2 o'clock in the afternoon for Ballentine Beer. My job was to run the board, so Hoppy could say, 'We're live from Carr's Beach. Everybody come on down.'"
By 2 or 3 o'clock, there would be a massive crowd. Sometimes thousands of people had to be turned away.
Local
Washington, D.C., Maryland and Virginia local news, events and information
But today, only photos and memories remain. A luxury condo community has since taken Carr's Beach's place along the shores of the Severn River.
"I'm saddened because there's no more African-American-established locations like that, but money speaks loudly," Hyson said. "They wanted to put condos out there. People wanted to live on the water. Eventually, all things change."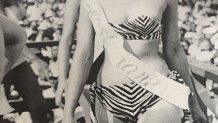 Carr's Beach is not the only location whose history has been washed away.
Other historically black resort towns across the country have met the same fate or are struggling to be recognized for their past contributions to the African-American community.
NBC4 visited three area beaches that, once having catered exclusively to African Americans, are now in different stages of existence. But where some have failed, others are actively working to make their mark on the history books.
"It's American history, and for too long, our American history only included one side," Annapolis historian Janice Hayes-Williams said. "American history is these beaches that provided an economic engine for the lives of the people who attended them."
'This Land Was Worth So Much'
Carr's Beach was founded by Frederick Carr's family in 1926. Five years later, his daughter, Florence Carr Sparrow, founded Sparrow's Beach on land she inherited just north of Carr's Beach. Sparrow and her sister, Elizabeth Carr Smith, ran both resorts as separate businesses, according to BlackPast.org.
For nearly 50 years, the beaches were safe havens for African-American families looking for a summer escape.
"Folks would be coming from as far north as New York, Pennsylvania, as far west as Ohio," said Andrew Kahrl, author of "The Land Was Ours: How Black Beaches Became White Wealth in the Coastal South".
By the 1950s, Carr's Beach was under new management and was a major stop on the "Chitlin' Circuit." The "Chitlin' Circuit" was a group of entertainment venues -- mostly in the South -- that were safe places for African-Americans entertainers to perform during segregation.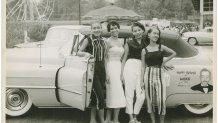 "Carr's Beach was the mammoth, the big, big gorilla," Hynson said.
But that all changed after desegregation. As African Americans began going to places where they had been previously denied, venues like Carr's Beach were not able to bring in the revenue they desperately needed.
During the same time, Kahrl says real estate values were skyrocketing, leading to the decline of African-American resort towns across the country.
"It was sort of a perfect storm for many of these African-American communities," Kahrl said. "It had real devastating effects on their ability to hold on to these places."
Kahrl said George Phelps, an African-American businessman who ran security at Carr's Beach, tried to buy the property, with plans to develop it into a black-owned, modern-day resort community. But he didn't have the capital to compete with one of the largest developers in Maryland.
"They got paid for the property. It was probably less than it was worth," Kahrl said. "Much of this land was worth so much. The African Americans who owned it never really got a chance to realize the wealth-generating potential that it had. Instead, it became an engine of wealth creation for other people."
Going to the Beach: Remembering Maryland's Black Beaches
'It's About Legacy'
The year before Carr's Beach was founded, developer Walter Beams acquired land in Prince George's County to create a resort community for middle-class African Americans from the Washington, D.C. area, according to a publication by the Maryland-National Capital Park & Planning Commission.
Eagle Harbor, whose name was derived from a weekly newspaper, was incorporated a few years later in 1929.
The tranquil, waterfront community is about a quarter of a mile long and sits on the southeasternmost point of Prince George's County.
There are no restaurants, no convenience stores -- just peace and quiet.
But that serenity comes with a price. The lack of businesses means Eagle Harbor can't generate the revenue most communities can.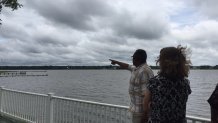 "No businesses. That creates a tremendous challenge in improving things," Mayor James Crudup said at a meeting between town officials and the Maryland National Park and Planning Commission.
With just 65 year-round residents, the town is now working to make improvements to their community and ensure others know its rich history. They're also working with the state and county to acquire grant money that will help them reach their goals.
"We're proud of our history, and we want people outside to get to know our town," Crudup said. "I see the importance of having something our forefathers founded and put a lot of work in. I don't think the pain they went through should be lost."
But some of the town's history has been lost to time.
"We had a historian, but when she passed, the records got lost," Crudup explained.
"We're in the process of filling in the gaps," town historian Lynwood Eaton said. "A lot of our owners now are elderly. I made the mistake in my own family of not capturing the history."
Eaton is one of the town's newer residents. After a career with the State Department, Eaton was looking to buy property. He says Eagle Harbor's history drew him to the area.
"The main thing that drove me here was the history," Eaton said.
Other residents have called the area home for years.
Crudup first came to Eagle Harbor with a friend in 1963.
"He owned a store and was the mayor in the time. He actually mentioned at the time that I should buy property down here, but I said, 'I'm going to buy a Corvette,'" Crudup laughed.
Crudup and his family eventually bought a cottage in the community a few years later.
"The family came down in the 70s -- probably about '75 or '76 -- to attend a cookout. We walked around the community and my wife said, 'You know we ought to buy one of these.' And that's what we ended up doing," Crudup said.
"This place used to be bustling," added historical committee member Dorothea Smith, who also first visited Eagle Harbor in the 1960s. "We would go house-to-house and play cards."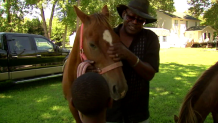 Among the town's many plans is getting historical designation from the county, but that's a process that can take more than a year to complete. But the town's residents are willing to put in the hard work.
"We're planning for the long run. A lot of things we're talking about we may not see, but that's the way things go," Eaton said.
"It's about legacy. That's what people don't understand," Smith added.
Weathering the Storm of Progress
One community that has been able to maintain its identity despite changing times is Highland Beach in Annapolis.
Highland Beach was founded by the children of abolitionist Frederick Douglass in 1893 after they were turned away from nearby Bay Ridge resort because of their race.
"They went and told their father, and Frederick Douglass said, 'I need you to go back down there and try to find a piece of land that's adjacent to that resort that turned us away,'" Annapolis historian Janice Hayes-Williams said.
Douglass' son, Charles Douglass, purchased a 40-acre tract with 500 feet of beachfront and began selling lots to family members and friends, according to the town's website.
Bay Ridge resort later caught fire and one of the town's first homes was built using wood salvaged from the property.
"It's a powerful story of a community built out of Jim Crow's disenfranchisement," Hayes-Williams said. "The purpose was to build it right next to the place that discriminated against them."
In 1922, Highland Beach was incorporated, becoming the first African-American municipality in Maryland. Ray Langston, one of the town's former mayors, credits the beach's ability to withstand the test of time to its status as a municipality and support from elected officials.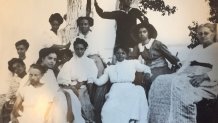 "Incorporation gives us what people in D.C. have been trying to get for years -- self-governance." Langston said.
"Anne Arundel County has two municipalities. One is the City of Annapolis and the other is Highland Beach," Hayes-Williams added. "In your own municipality, you get to create your own laws. There's stuff you just can't do."
Kahrl says the community has also been able to protect their space along the Chesapeake Bay by physically rooting their identity in their history.
"Highland Beach has actually done a remarkable job of really holding on to their identity," Kahrl said. "Talking to some of the long-time residents of Highland Beach, one of the things that stood out to me was the fact that they were able to sort of gain their foothold."
Unlike some beach communities, Highland Beach still has a physical property that is connected to Frederick Douglass. Twin Oaks, one of the summer cottages built on the land, was constructed in 1895 for Douglass, but he died before it was finished.
"It's much more difficult for a developer to come in and plow over a place like that because it's a real historic landmark," Kahrl said. "Highland Beach is one of the few examples of a place that has been able to weather the storm of progress."
The affluence of its residents has also helped the town when it comes to matching grant money they've been awarded.
"That's what it takes. You have to have people to support. That's the hardest part, and with Highland Beach, that community is an affluent community," Hayes-Williams said.
Twin Oaks was restored in the 1980s, and in 1995, the house was deeded to the town. Today, it operates as the Frederick Douglass Museum and Cultural Center.
"All of the house is original, except the kitchen. Even the glass in the windows dates back to the 1800s," Langston said as he pointed out the wood-framed windows.
The museum is filled with pictures and artifacts that belonged to the Douglass family and other families that still call the beach home.
"Eighty percent of our current residents are descendants or close friends of the original families," Langston said. "We have traditionally passed down our history from generation to generation."
The museum even has a small gift shop -- something the mayor of Eagle Harbor says he would like to have for his own community one day.
"I like what's going on in Highland Beach," Crudup said. "We're making progress, but not like I think we should be making progress."