Defense attorneys say a man's death in a fire at a Bethesda, Maryland, home where he was helping the homeowner build a bizarre underground bunker was an accident, but prosecutors say the homeowner was negligent.
Opening statements were delivered Wednesday in the second-degree murder and involuntary manslaughter trial of Daniel Beckwitt, a wealthy stock trader.
Askia Khafra, 21, was found dead in the basement of Beckwitt's childhood after it caught fire in September 2017. His charred, naked body was not far from a hole in the floor that Khafra used to enter a shaft that dropped some 20 feet underground into a series of tunnels.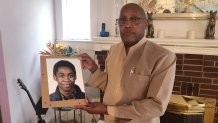 Prosecutors called it a death trap and pointed to the hoarding conditions inside the basement as evidence of Beckwitt's negligence, arguing Khafra could have made it out of the home if he had a way out.
They also said Beckwitt went to great lengths to conceal the whereabouts of his home from Khafra, accusing him of putting blackout goggles on Khafra as he drove him to the Bethesda home.
"The theme of this case is secrecy over safety at all costs," Montgomery County prosecutor Marybeth Ayres said.
Beckwitt's attorneys argued their client's secrecy did not result in a lack of safety.
Local
Washington, D.C., Maryland and Virginia local news, events and information
"Secrecy does not equate to lack of safety," said Beckwitt's lawyer, Robert Bonsib.
The defense painted Khafra as a smart and mature 21-year-old man who willingly went into the tunnels on multiple occasions to dig for several days at a time. They said photos of Khafra in the tunnels show he was proud of the work that he was doing.
They said his death was an unintentional and unexpected accident.
Khafra's father took the stand after opening statements. He started to cry, as did his family, as he told jurors about learning from police how his smart son died. The defendant also started to cry.
Key testimony to come will be from another who man worked in the tunnels. The defense says the conditions inside were not as dire as the prosecution says.
Copyright AP - Associated Press