A 16-year-old was killed in a shooting early Tuesday in Washington, D.C., police said, amid a rash of violence in the capital following July 4 celebrations.
Officers responded to the 700 block of Kenilworth Terrace Northeast about 1 a.m., the Metropolitan Police Department said.
Levoire Simmons, of Northeast D.C., was found with an apparent gunshot wound, police said. DC Fire and EMS found no signs of life, and Simmons' body was taken to the medical examiner's office, police said.
Homicide detectives responded to the scene. No potential suspects or motive have been announced.
A $25,000 reward is available in the case.
D.C. police reported investigating at least six other shootings and a stabbing from late Monday to Tuesday morning, including a fatal shooting of a man on Yuma Street Southeast, police said.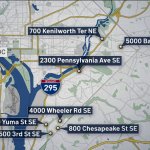 The Metropolitan Police Department has recorded 109 homicides so far this year. Four people were killed since July 1, according to police data.