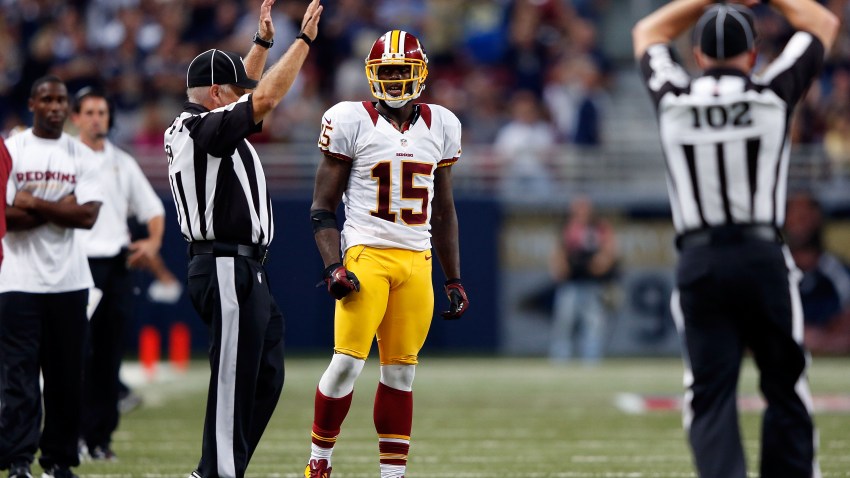 The Washington Redskins' 31-28 loss to the St. Louis Rams Sunday was incredibly frustrating for several reasons. A solid performance by Robert Griffin III (20-for-29, one touchdown, two rushing touchdowns) was wasted; the 'Skins blew a 21-6 lead; the defense was porous, allowing Rams wide receiver Danny Amendola to catch 15 passes for 160 yards and a touchdown; both Brian Orakpo and Adam Carriker suffered injuries.
But nothing was more hair-pullingly awful than Josh Morgan's unsportsmanlike conduct penalty with just over one minute left that ultimately cost the Redskins the game (though he shouldn't have been in the position to do so in the first place).
Morgan caught a pass from Griffin and took it to the St. Louis 29 before being taken down. Rams cornerback Cortland Finnegan -- who has a reputation for being a feisty/dirty player as seen here -- shoved Morgan. Morgan retaliated by throwing the ball at Finnegan, prompting the officials to throw a flag.
The penalty pushed the Redskins back to the St. Louis 44, turning a feasible game-tying 46-yard field goal into a nearly-impossible 62-yarder. Billy Cundiff missed the field goal badly and the 'Skins fell to 1-1.
Now might not be the time to mention that Morgan is making nearly $12 million over the next two years, right?
---
Follow Adam on Twitter @AdamVingan and e-mail your story ideas to adamvingan (at) gmail.com.