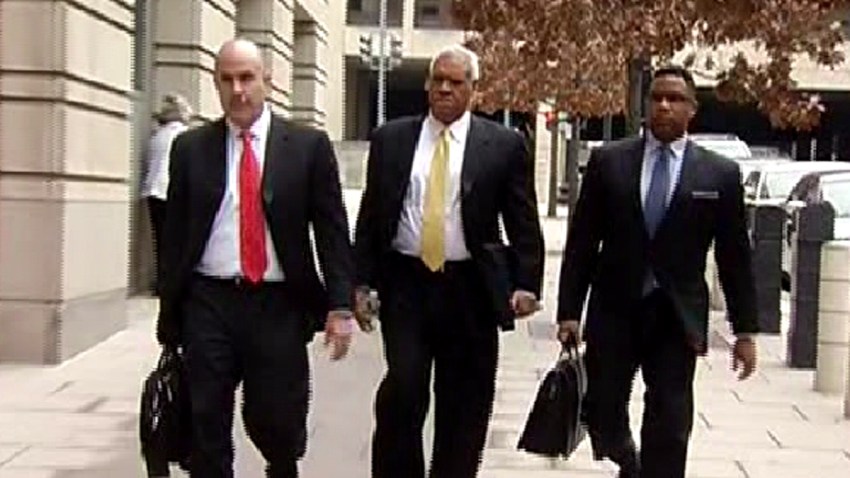 Here is the court document that spells out the federal case against D.C. businessman Jeffrey Thompson.
Thompson has pleaded guilty to conspiracy after reaching an agreement with federal prosecutors investigating illegal donations to D.C. and federal campaigns.
The prosecutors have alleged that D.C. Mayor Vincent Gray knew that his 2010 campaign received money donated illegally by Thompson, who had a city contract worth $300 million.
They also allege that Thompson donated illegally to candidates for D.C. Council and to candidates in federal races, including for president of the United States.
Tisha Thompson of the News4 I-Team has annotated the document. For annotations of the charging documents, click here.
DV.load("//www.documentcloud.org/documents/1068155-thompson-jeffrey-signed-statement-of-offense.js", { width: 590, height: 600, container: "#DV-viewer-1068155-thompson-jeffrey-signed-statement-of-offense" }); <a href="http://s3.documentcloud.org/documents/1068155/thompson-jeffrey-signed-statement-of-offense.pdf" _fcksavedurl="http://s3.documentcloud.org/documents/1068155/thompson-jeffrey-signed-statement-of-offense.pdf">Thompson, Jeffrey Signed Statement of Offense March 2014 (PDF)</a> <br /> <a href="http://s3.documentcloud.org/documents/1068155/thompson-jeffrey-signed-statement-of-offense.txt" _fcksavedurl="http://s3.documentcloud.org/documents/1068155/thompson-jeffrey-signed-statement-of-offense.txt">Thompson, Jeffrey Signed Statement of Offense March 2014 (Text)</a>