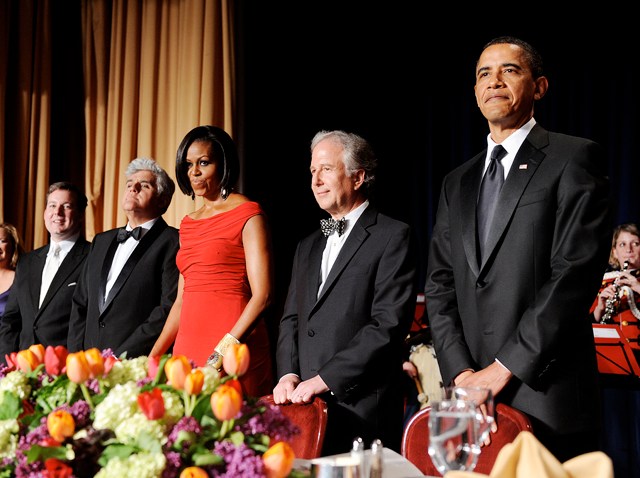 President Barack Obama can take a joke -- and he knows how to deliver them, too.

"...I work a lot," he said. "And so I wasn't sure that I should actually come tonight. Biden talked me into it. He leaned over and he said, "Mr. President -- this is no ordinary dinner. This is a big (beep) meal."

It sure was -- it was the White House Correspondents' Association Dinner.

Obama dinged headliner Jay Leno as "the only person whose ratings fell more than mine," but he also said he was glad he was before Leno.

Obama told the 3,000-strong mix of celebrities, elected officials, political appointees and journalists that "We've all seen what happens when you take the time slot after Leno."

The annual black-tie dinner attracts a mix of celebrities, elected officials, political appointees and journalists.

In the past year and a half, Leno has invited Obama, the first lady and even senior White House adviser David Axelrod to appear on his show for some friendly chats. But like entertainers at previous dinners, Leno was expected on Saturday to make some jabs at Obama and other politicians.

Among the 3,000 guests on hand included Alec Baldwin, Bill Maher, Jessica Simpson, Dennis Quaid, former Secretary of State Colin Powell, GOP Chairman Michael Steele, New York Mayor Michael Bloomberg, White House senior adviser David Axelrod, pop star Justin Bieber and the Jonas brothers.

"The Jonas Brothers are here," Obama said. "They're out there somewhere. Sasha and Malia are huge fans. But, boys, don't get any ideas. I have two words for you -- predator drones. You will never see it coming."

Hollywood heavyweights Michel Douglas and Steven Spielberg were seen chatting with White House aide Rahm Emmanuel.

Party crashers were not welcome, especially after Tareq and Michaele Salahi got through White House gates without invitations to a state dinner. "Odds are that the Salahis are here," Obama joked at one point. "There haven't been people that were more unwelcome at a party since Charlie Crist."

Last night's guests had to bring a dinner ticket or printed invitation to attend dinner pre-parties at the Washington Hilton Hotel. Organizers said they were trying to cut down on crowds.

But the glitzy event has grown to become much more than the $225-per-ticket dinner. Celebrities, political elite and journalists also flooded several after-parties that had red carpets of their own, said Sarah Schaffer of Capitol File Magazine, a host to one of the parties.

At the dinner, the White House Correspondents' Association introduced students from Washington who will receive college scholarships.

Honored at the dinner were several journalists:
Ben Feller of The Associated Press and Jake Tapper of ABC News, for winning the Merriman Smith Award for presidential coverage under deadline pressure. Feller won for his coverage of Obama's unexpected late-night visit to Dover Air Force Base to honor fallen soldiers. Tapper won for his story that revealed tax problems of former Sen. Tom Daschle, D-S.D.
Mark Knoller, of CBS News, for winning the Aldo Beckman award for sustained excellence in White House coverage. Knoller won for his work covering the White House for more than 35 years and in using multiple platforms to report.
Suzanne Bohan and Sandy Kleffman, of the Contra Costa (Calif.) Times, for winning the Edgar A. Poe Award for excellence in coverage of news of national or regional significance. They were cited for a four-part series entitled "Shortened Lives: Where You Live Matters."
"People say to me, 'Mr. President, you helped revive the banking industry, you saved GM and Chrysler. What about the news business?'" Obama said. "I have to explain, hey, I'm just the president. I'm not a miracle worker, here."
The White House Correspondents' Association was formed in 1914 as a liaison between the press and the president. Every president since Calvin Coolidge has attended the dinner.
Copyright AP - Associated Press