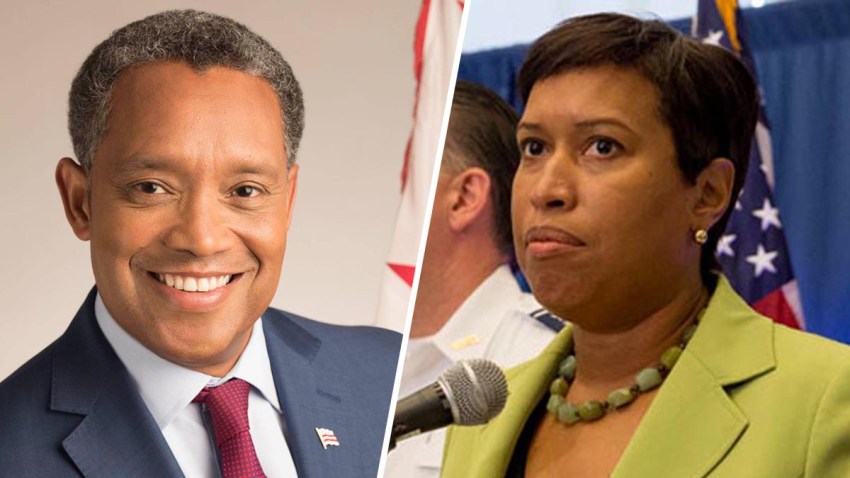 Harry Jaffe, a longtime chronicler of the people and politics of Washington, D.C., writes a column for NBC Washington's First Read DMV blog.
Call it the Nightmare on the Fifth Floor — the wing of the John A. Wilson Building that Mayor Muriel Bowser's team occupies.
The bad dream began with Attorney General Karl Racine's re-election to a second term and got worse as the returns rolled in and crushed the mayor's candidate for an at-large D.C. Council seat. The results portend a rough second term for Bowser, and a new lineup of mayoral hopefuls for 2022.
WINNERS
Karl Racine: Like Bowser, Racine ran unopposed for his second term as the District's first elected attorney general. Bowser's political advisers have always seen Racine as a threat. Now they have good reason. Racine has slowly but surely built a record as the AG on a white horse suing landlords to protect aggrieved tenants, among other consumer protection actions. His suit against President Donald Trump for making money from his Trump International Hotel, perhaps in violation of the Constitution, has raised Racine's national profile. Voters rewarded him with the most votes of anyone on Tuesday.
In raw numbers, Racine trounced Bowser. He got 193,885 votes, compared to her 159,820. That means 34,065 voters who went for Racine chose not to vote for Bowser. Not that they were running against one another, head to head, but that's how Bowser's people see it.
Plus, Racine backed Elissa Silverman, who won over Bowser's pick.
Racine becomes the immediate front-runner for mayor in four years. The next mayoral election is four years away, but Karl Racine has already endeared himself to D.C. voters. When he took the podium at Council member at-large Elissa Silverman's victory party, supporters chanted "Our next mayor!"
Judging from the nearly 194,000 votes cast for Racine in this election, he's clearly in position to succeed Bowser, who has indicated she will not seek a third term. Racine has yet to show much interest in being mayor, but that could change.
If not, there are a few current Council members who see themselves as mayoral material, perhaps even Silverman, once she recovers from this bruising race.
Elissa Silverman: The at-large Council member beat back two candidates hand-picked by the business community to take her out. Running for her second term, Silverman has built a strong record for performing basic oversight, as in making sure the District government was working to serve residents. This fundamental task is in short supply on the D.C. Council. Silverman backed a paid family medical leave law that made her the enemy of some businesses — and of the mayor. Bowser and Silverman also clashed personally when the Council member called out mayoral insider Joshua Lopez for sponsoring a political event on Wilson Building steps that turned anti-Semitic. Rather than play peacemaker, Bowser chose to call Silverman to her home and threaten her.
With her victory over Dionne Reeder, Silverman gains stature and power on the Council, where Bowser has scant support already.
Phil Mendelson: The Council chair makes the winners' list by default, since he also ran unopposed. But he emerges from the election with more power in his combative relationship with the mayor. If Bowser's candidate had knocked off Silverman, she would have had a better base to challenge Mendelson. Now Mendelson has the opportunity to become a true leader in improving matters dear to his heart, such as public education, if he can keep control of the 12 Council members.
Vincent Gray: The Ward 7 Council member also wins by default. He wasn't up for re-election, but Bowser's loss is his gain in their long-running feud.
Trayon White: The first-term Ward 8 Council member found himself in the middle of the at-large race between Silverman and Reeder. The mayor and her allies played the race card, promoting Reeder, who is black, against Silverman, who is white. White's ward is predominantly African American, and Reeder's supporters pressured him to back her. Under intense scrutiny, White declined. He has built a strong working relation with Silverman and respected her support for working families. By not taking sides, White strengthened his own stature and gained a newly empowered ally in Silverman.
Jauhar Abraham: A street activist in D.C.'s most disadvantaged neighborhoods east of the Anacostia River, Abraham seemed to be a natural ally of Reeder. He partnered with Reeder to found Cheers Bar & Grill on Martin Luther King Jr. Avenue. "I love Dionne as a person," he told me, "but I don't agree with her positions." Or her being beholden to Bowser. Abraham threw his support behind Silverman. "I always liked Elissa," he said. "She's fought against public corruption, worked with Trayon and refused to be a rubber stamp for the mayor." By taking the more principled position, Abraham has put himself in position to be Silverman's emissary in Wards 7 and 8.
John Boardman and Dyana Forester: The District's unions went head to head with the developers and the business community in the at-large race — and beat them badly. Boardman's UniteHere Local 25 of the Hotel Workers union put feet on the ground for Silverman, along with Forester's United Food and Commercial Workers Local 400. Service employees (SEIU) and the Laborers union backed Silverman as well. In the coming political and policy battles, the unions put themselves in position to push around the business side, thanks to their support of Silverman.
LOSERS
Muriel Bowser: The mayor's average in electing Council members is near zero. She's lost every race but one. This time she backed two against Silverman. First, Kathryn Allen got thrown off the ballot for fudging her petitions. Then, Silverman dispatched Dionne Reeder. Bowser's chief political operative, John Falcicchio, directed campaign contributions to Reeder, all for naught. Bowser's only ally on the council, Ward 4's Brandon Todd, is seen as ineffectual.
Bowser heads into her second term weaker than the first. "I have a great relationship with the Council," she said at a press conference after the vote. Actually, no.
Born Before Women Could Vote, 104-Year-Old Woman Casts Ballot in DC
Anthony Williams: The former mayor and current Federal City Council executive director led the charge against Silverman. First he backed Reeder, then switched to Kathryn Allen, then back to Reeder when Allen was forced off the ballot.
During his two terms, Williams had a troubled relationship with the Council. After losing against Silverman, he's going to face even more opposition to his advocacy for the business community's positions.
Washington Post Editorial Page: It used to be that candidates for District office would genuflect for endorsements by the Post's opinion page, and readers would punch the ticket of the Post's approved candidates. Marion Barry's first mayoral victory in 1978 came in large part thanks to the Post's serial endorsements. That clout is much diminished. The Post has been in lock step with Bowser and her anointed candidates, most of whom have lost. The Post's endorsement of Dionne Reeder made the Post even less relevant. The Post also endorsed Petar Dimtchev, the challenger to Ward 3 incumbent Mary Cheh, for questioning mayoral control of the public schools. Few voters followed; Cheh won easily.
Joshua Lopez: Coming out of his support in 2006 for Bowser's mentor, former mayor Adrian Fenty, Lopez could have built a base among the District's Latino voters, who lack political voice and a seat on the Council. Lopez instead chose the private sector aided by political connections and a mayoral appointment by Bowser. Backing Reeder, Lopez helped turn the race between Reeder and Silverman mean-spirited and racially fraught.
Lopez lost his mayoral appointment and then lost the Reeder campaign. He becomes toxic to both white and black voters.
Dionne Reeder: The District needs more qualified, committed elected public officials, especially from the business community. With her experience running a small business, Reeder could have built name recognition in her first Council race and set herself up for future campaigns. But rather than debating Silverman on policy and governance, Reeder alluded to race. Speaking at one of her closing rallies, she told supporters, "Don't let nobody take our city over, y'all," according to the Washington City Paper.
Her naked appeal to stir up racial fear failed to win the seat and might narrow her chances for future campaigns.
Harry Jaffe, a longtime chronicler of the people and politics of Washington, D.C., writes a column for NBC Washington's First Read DMV blog.