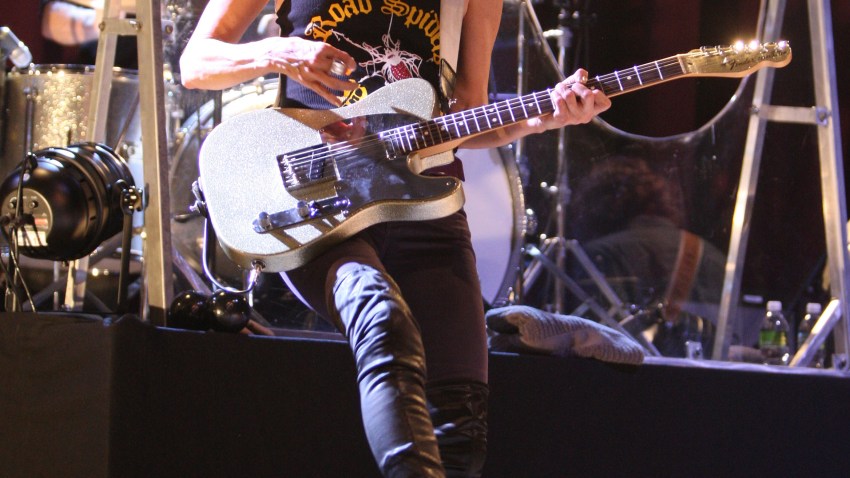 Harry Jaffe, a longtime chronicler of the people and politics of Washington, D.C., writes a column for NBC Washington's First Read DMV blog.
As 2016 came to a close, denizens of the District got great news: the nation's capital gained another 10,000 people, according to the U.S. Census. We are keeping pace with a steady increase that's brought our population to more than 680,000, the highest number in four decades. That's far short of the 888,000 high D.C. reached right after World War II, but we are getting there.
Mayor Muriel Bowser immediately beat her chest: "Our neighborhoods continue to grow safer and stronger, and our schools continue to enroll more students and improve outcomes."
Not so fast. Demographic and market trends beyond Bowser's control are attracting new residents to the center city. Moreover, Bowser didn't have such a great year in 2016. She's on the wrong side in our year-end look at last year's winners and losers.
First, some losers:
Mayor Muriel Bowser: During her second year in office, the rookie chief executive took a major hit to her political machine. Her three council candidates lost to detractors, among them arch-enemy Vincent Gray, who still believes she stole the election from him in 2014. Bowser lost crucial battles with the Council. Like Hillary Clinton, Bowser has yet to settle on a message that could propel her to victory in a campaign that will commence next year.
Staying the course will steer her into the rocks.
Ted Leonisis: the multi-talented owner of our pro basketball and hockey teams is great at being accessible to fans, but he has yet to deliver a winner. Neither the Wizards, the Capitals nor the Mystics contended for titles in 2016, and this season is not starting well. The fans are getting restless. "We do have to be patient," Leonsis told radio listeners last month, "but I do understand what people are saying."
Deliver contenders and quiet the crowd.
Kenyan McDuffie: Where has the chairman of the Council's Judiciary Committee been as the streets of D.C. became less safe by the day, especially at night? We have absorbed this week's brutal murder of Tricia McCauley by a man who should have been behind bars, the still unsolved killing of DNC staffer Seth Rich, the carjacking of a mom unloading groceries in Chevy Chase, the senseless killing of 129 people, mostly African Americans. Attorney General Karl Racine told me violent young offenders are "wreaking havoc" in D.C. In the fifth police district that covers McDuffie's ward, gun crimes and sex abuse rose in 2016, and violent crime was up across the board.
McDuffie touted his 2016 crime bill as "a step in the right direction," but it was high on prevention and short on consequences. Meanwhile, the criminal justice system remains "broken," in the words of outgoing police chief Cathy Lanier, and McDuffie has failed to plug the cracks.
Vincent Orange: The veteran District politician seemed to be prepared to lose his at-large seat in the last election. A month after Robert White beat him, Orange was named president and CEO of the D.C. Chamber of Commerce. Great fit for an accountant who had chaired the business, consumer and regulatory affairs committee. Problem was Orange refused to resign from the council; he wanted to run the chamber, starting in August, yet run out his five-month term on the council. He gets to collect his $125,000 city salary and his chamber pay check, while he chairs the committee that affects chamber affairs?
Way too greedy. His colleagues forced him to resign, an his ability to advocate for small business took a hit.
Now, for those for whom 2016 was a win:
James Alifantis: The owner of Comet Ping Pong withstood the insane social media storm that wrongly accused him of conspiring with Hillary Clinton to run a child sex ring from his pizza joint's basement. He and fellow business owners along his stretch of Connecticut Avenue below Nebraska Avenue NW suffered verbal threats until early December when a gun-wielding nutball drove from North Carolina to his restaurant to personally "investigate" and free the enslaved kids.
Stay Calm and Make Pizza.
Elissa Silverman: The at-large council member successfully crafted the District's landmark family leave legislation and ushered it through months of hearings and compromises. She listened to critics. She scaled back the time of paid leave. She held firm and helped maintain a veto-proof majority.
Come January, the first-term legislator has the opportunity to lead the council's emerging progressive majority.
Ivanka Trump: The soon-to-be First Daughter won the right to develop the Old Post Office Building on Pennsylvania Avenue in 2014. In 2016 she delivered the Trump International Hotel in time and under budget. Ivanka was the face of the Trump Organization in negotiations with the General Services Administration. Along the way she won over and developed strong ties with local leaders like Delegate Eleanor Holmes Norton, Mayor Bowser and Councilmember Jack Evans. As First Daughter with President Trump's ear, she's poised to wield the most power in the interplay between the District and the White House.
Rushern Baker III: The Prince George's County executive rolled the dice by advocating for gambling on the shores of the Potomac River. This month MGM National Harbor opened its doors to flash the glitz of Las Vegas just south of the Wilson Bridge. Baker looks like a winner now, but he was betting on the come. Let's see if the casinos, hotels and high-end restaurants pay off in jobs and tax revenues for his constituents.
Odds are in his favor.
Paul Wiedefeld: People love to hate Metro General Manager Paul Wiedefeld. He's the guy who summarily shut down the region's subway system for safety. They blame him for slowing service to fix the tracks, recommending rate hikes and cutting jobs.
But those closer to the debacle that Metro has become -- thanks to deferred maintenance and lousy management -- know Wiedefeld is taking heat for getting Metro on the right track, so to speak.
Jose Andres: The restaurateur and food impresario bailed out of Trump International Hotel when The Donald disparaged Mexicans as "rapists." That earned him Trump's ire and a lawsuit. Andreas not only didn't cave, he grew his local restaurant organization ThinkFoodGroup to the MGM National Harbor with plans for more openings.
In 2016 Andres proved himself to be the region's dominant restaurateur.
Bryce Harper: The Washington Nationals lost in the playoffs, per usual, but their phenomenal young star came out a winner. Prior to the 2016 season, Harper got the reputation as a hitter and fielder with unlimited potential, but that prowess came with a hot head and tendency to fling himself into outfield walls. Last season Harper endured the maddening tendency for pitchers to throw him nothing but unhittable balls. He fell into a slump. But he never pouted or raged. Staying calm, he played through injuries and still turned in a decent batting average, stole a bunch of bases and never wavered in the field.
In December he married Kayla Varner, his high school girlfriend. In 2016 the rookie star, at 24, started to mature.
Finally, Phil Mendelson: When Mayor Muriel Bowser dropped the f-bomb on the council chair in May in a fit of pique over her bill to help the homeless, Mendo didn't respond in kind. Knowing he had the upper hand, he smiled and took his leave. Mendelson repaid the mayor by re-crafting and passing his own homelessness law. He then helped pass a veto-proof family leave bill, which Bowser opposed. In his quiet, resolute way, the veteran council member now becomes the most popular elected official in the District. If he can maintain control over the fractious and immature council that will occupy the dais in January, Mendelson could be the most powerful elected official, as well.