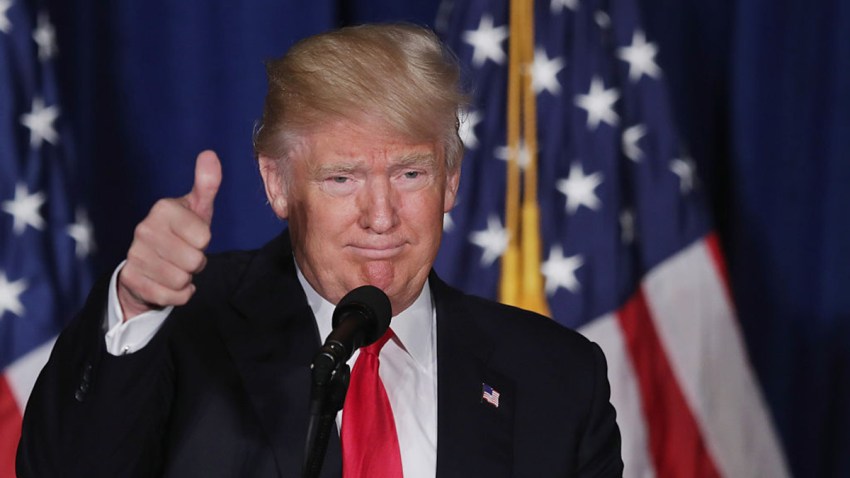 What to Know
Michael Bloomberg got it right at the Democratic Convention: "The richest thing about Donald Trump is his hypocrisy."
But I can make the case that the District would prosper under a President Trump.
The Donald just might be tightly wrapped enough to treat the District of Columbia very well from 1600 Pennsylvania Avenue.
Harry Jaffe, a longtime chronicler of the people and politics of Washington, D.C., writes an occasional column for NBC Washington's First Read DMV blog.
Michael Bloomberg got it right at the Democratic National Convention: "The richest thing about Donald Trump is his hypocrisy." The billionaire, former New York mayor and independent called Trump "a dangerous demagogue," endorsed Hillary Clinton and added: "God help us. I'm a New Yorker, and I know a con when I see one."
Even stalwart Republicans like the former presidents Bush agree Trump is not fit to be president. As Clinton says: "He's unhinged."
But The Donald just might be tightly wrapped enough to treat the District of Columbia very well from 1600 Pennsylvania Avenue. At the risk of wrecking my marriage, alienating my three daughters and getting tossed out of my poker game, I can make the case that the District would prosper under a President Trump.
Contrary to conventional wisdom, the nation's capital -- where 75 percent of voters register as Democrats -- has done quite well under Republican presidents and friendly GOP members of Congress. Democrats have not always been there for D.C. Trump might fit the mold of benevolent Republicans.
"I would like to do whatever is good for the District of Columbia because I love the people," Trump told Chuck Todd last August on Meet the Press. "You know, it's funny. I've really gotten to know the people, the representatives, and the mayor, and everybody. They're really special people. They're great. And they have a great feeling."
Whatever that means.
Trump didn't commit to supporting statehood or any change in the District's status as a ward of the federal government, with no voting representation in the House and nary a senator. But he does like us.
"So," he went on, "I would say whatever's best for them I'm for. I have a total conflict of interest."
That conflict would be Trump's luxurious hotel, which opened last month at the Old Post Office Pavilion on Pennsylvania Avenue, between the White House and the U.S. Capitol. It's "what will be maybe one of the great hotels in the world," he told Todd.
But that conflict could accrue to the District's benefit. Trump is at heart a businessman. With his landmark hotel down the street, he would have a stake in keeping the District safe, prosperous and fiscally sound.
He would be following the path cut by his Republican predecessors.
It was President Richard Nixon who signed the 1973 Home Rule Act, which established the elected mayor and council. It was Nixon who toured the riot-scarred streets of the nation's capital with D.C.'s first elected mayor, Walter Washington. It was Nixon who started the city's reconstruction.
Granted, Lyndon Baines Johnson was by far the president most sympathetic to the District. LBJ loved the capital. He had spent most of adult life here. For him, liberating the District from Congress was part of his Civil Rights crusade. After LBJ, any impetus to give residents of D.C. more power and local control withered.
During Bill Clinton's first two years in office, Democrats controlled the House and Senate. What a perfect moment to push through statehood, or budgetary control, or full voting rights in the House. Nada. The moment passed with no progress for D.C.
The District received the most positive attention of late during George W. Bush's administration, thanks to Josh Bolton. Raised in D.C., Bolton was a Bush insider who became chief of staff and used that position to help his town.
"He was fabulous," says D.C. Delegate Eleanor Holmes Norton.
Norton points out that Republican allies in Congress were crucial in advancing District laws favorable to the District. Former Fairfax representative Tom Davis championed the last best effort to give full voting rights to the District's House member. The D.C. Tuition Assistance Grant, that pays as much as $10,000 for students to attend state colleges, such as those in Virginia and Michigan, came to us thanks to Davis, former Montgomery County Congresswoman Connie Morella and Ohio Sen. George Voinovich, all Republicans. And from Norton, of course -- who points out that Republicans have held majorities for most of her time in office.
On the other hand, Norton said Barack Obama has done "very little" for the District. The first African American president sold D.C. down the river in negotiations to keep the federal government running in 2011. "John," he was quoted telling former Speaker John Boehner, "I will give you D.C. abortion," giving into conservatives who wanted to ban abortion in the District.
"With friends like that," The Washington Post editorialized, "who needs enemies?"
It took four years of wheedling and whining to get Obama to put the District's "No Taxation Without Representation" license plates on his limousines.
Norton says she used a moment with Hillary Clinton a month ago to press D.C.'s case.
"Madam Secretary," she said, "are you for statehood?"
"Eleanor, I have always been for statehood."
Indeed, Clinton vowed in an op-ed for the Washington Informer in May that she would be a "vocal champion" for statehood. "Washingtonians serve in the military, serve on juries, and pay taxes like everyone else. And yet, they don't even have a vote in Congress."
Everyone, we have learned, but Trump.
Despite his apparent success at avoiding federal income taxes, his bouts of misogyny and abiding racism, there are some native Washingtonians who favor him. Elizabeth Matory, an African American who grew up in D.C. and lives Maryland, supported Ohio Gov. John Kasich and now Trump.
"We are suffering from 50 years of failed liberal policies," she offers. "Go east of the [Anacostia] river and you will see that we have failed one another." Trump, on the other hand, will "grow the tax base, bring in industry and put people back to work," she said.
That sounds great, but seeing how Donald Trump conducted business in New York and Atlantic City, Michael Bloomberg might be right. Let's say Trump becomes president and his luxury hotel fails. He loses money. He blames the city, the servers, the tourists. He bails out, declares bankruptcy, and leaves the District with an albatross.
Once a con, always a con.