Before dawn on Thursday, Kara Murdock waited outside a government office in Manassas, Virginia. When the sun rose and the doors opened, she wanted to be the first person to apply for health care benefits under the state's newly expanded Medicaid program.
Marking a major achievement for Democratic Gov. Ralph Northam, about 400,000 low-income Virginia adults can enroll in Medicaid as of Thursday.
Murdock says her life is divided into two parts: before and after a blood clot cut off circulation to her right arm. In 2014, at 23 years old, she had her arm amputated near the elbow. Without her arm, and with severe back pain, she was unable to return to her job as a dog groomer or training as a paramedic.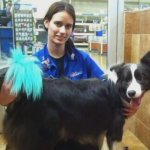 When she turned 26, she was dropped from her parents' insurance plan and could no longer afford some of her medications, including a blood thinner that could prevent a second blood clot.
Murdock said Thursday that if she is approved for Medicaid, her life will turn a corner.
"It's going to change my life," she said. "My hopes are that when I get Medicaid, I can have surgery on my back and fix the issues that I have, and to be able to live a more normal, pain-free life"
If Murdock's application is accepted, she will become one of 14,000 expected to be added to the Medicaid rolls in Prince William County alone.
She said she hopes to rejoin the workforce and "become the person I once was, who was the equivilent to an Energizer Bunny. I never stopped going."
She should get a response in about 45 days.
State lawmakers voted to expand Medicaid earlier this year, joining a majority of other states that have already expanded publicly funded health care to low-income adults.
Go here to see if you're eligible for expanded Medicaid coverage in Virginia.