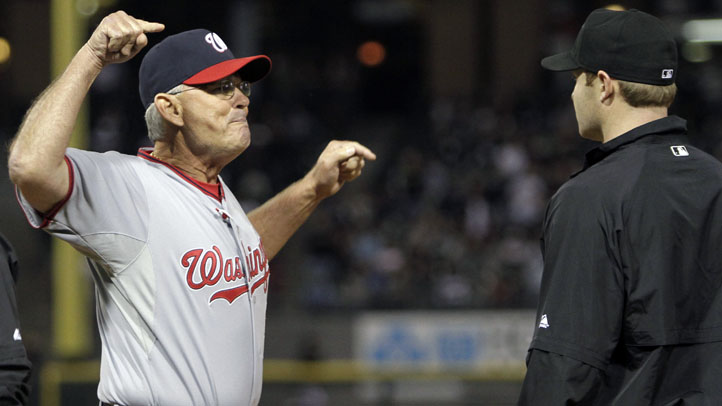 Riggleman's replacement won his first game as interim manager, but got thrown out before it was over.

John McLaren, heading the team after John Riggleman's abrupt departure, and outfielder Jerry Hairston were long gone by the time the game ended, incensed by a strange sequence in the bottom of the eighth in which both were ejected.

Paul Konerko hit a grounder to shortstop Ian Desmond, who fumbled the ball and threw wide to first. Michael Morse tried to tag Konerko as he went by, and umpire Mike Estabrook initially ruled Konerko out. But after Konerko protested, the umpires conferred and reversed the call - after the Nationals had left the field.

An irate McLaren raced out to protest and was quickly ejected. Moments later, Hairston also was thrown out and had to be restrained by third base coach Bo Porter.

With the 9-5 victory over the White Sox, the Nationals have now won 12 of their last 13.

Davey Johnson, a senior adviser with the Nationals who managed the Mets to the 1986 World Series title, has talked to general manager Mike Rizzo about taking over full time managing the team, and is considered a top candidate.
Copyright AP - Associated Press