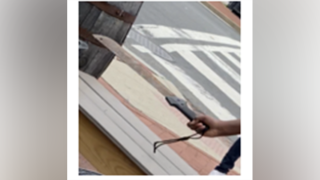 A man going to a restaurant during D.C. Pride festivities on Saturday was followed, called anti-gay slurs and threatened with a machete, police say. The aggressor also flung cicadas onto him as he ate, officials say.
Police confirmed Sunday that a 13-year-old boy was arrested for the crime after being caught on surveillance footage. The suspect is shown on video carrying a blade that appears to be over a foot long.
The victim was walking to Shaw's Tavern, on Florida Avenue NW near 6th Street NW, at about 3 p.m. Saturday when the teenager began harassing him and using anti-gay slurs, a police report says.
The man stayed at the restaurant and the teen left.
We're making it easier for you to find stories that matter with our new newsletter — The 4Front. Sign up here and get news that is important for you to your inbox.
The teen then returned, wielding a machete, and approached the man.
"I'll silence you," he said as he motioned at the huge knife, the police report says.
The teen also "appeared to stab cicadas on the ground" and flicked them onto the man as he dined.
No injuries were reported.
In a statement, the restaurant thanked D.C. police for addressing violent crime in the area.
"Unfortunately, a majority of the recent incidents have involved minors, some as young as 12 years old. Over the past several months, we have been in communication with fellow business owners, our ANC, MPD, council members, the Mayor's office, and youth outreach coordinators in hopes of collectively addressing the instances of crime. Clearly we're failing given the frightening nature of this incident, which occurred in broad daylight with thousands of people out celebrating Pride weekend," Shaw's Tavern said.
"Shaw's Tavern is proud to be a gathering place where all people are welcome and celebrated. We firmly condemn any and all acts of hate, including this most recent incident in our neighborhood. We were unable to get the information of the victim yesterday, but would appreciate getting in touch with them to check in and see how they're doing," the restaurant said.
A hate crime investigation is underway.
Stay with NBC Washington for more details on this developing story.