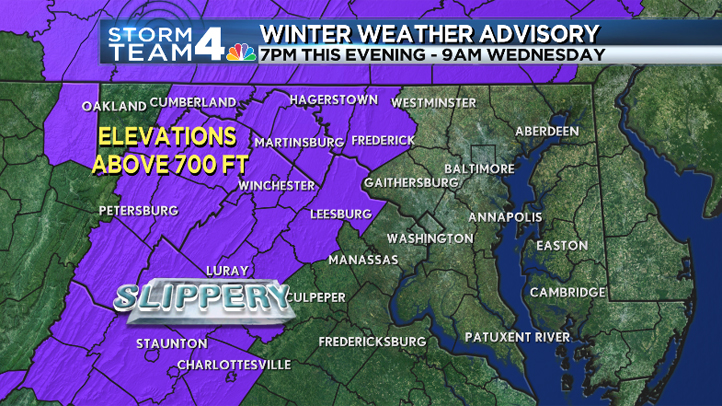 A Winter Weather Advisory is in effect for parts of the D.C. region, with freezing rain and sleet expected.
The advisory covers higher elevations in parts of Warren, Frederick, Loudoun, Clarke and northern Fauquier counties in Virginia and several counties in West Virginia.
The warnings also extend down the I-81 corridor, to Harrisburg and Charlottesville, Va.
In these areas, ice could accumulate, from a trace to one-tenth inch, at elevations above 700 feet, the National Weather Service said.
Roads could be slippery and bridges and overpasses could freeze, StormTeam4 meteorologists said.
Keep up with the latest weather with StormTeam4.
---

Get the latest weather from NBCWashington.com:
Download our NEW free weather apps for iPad and iPhone. You can also follow us on Twitter and Facebook, and sign up for our e-mail newsletters.