A man suspected of gunning down his wife, then opening fire on police and shooting himself in the head as he attempted to flee on Interstate 95 in Stafford County, Virginia, was a registered sex offender with a criminal history.
The Stafford County Sheriff's Office said Gregory Lee, 42, shot at two law enforcement officers when they pulled him over in a black SUV on Thursday morning in connection with the fatal shooting of his wife, Melissa Dee Lee, 36.
After the shooting, Gregory Lee led officers on a pursuit on I-95. The SUV crashed and rolled over near mile marker 142 after Lee shot himself, the sheriff's office said. He was taken to Inova Fairfax Hospital, where he died of his gunshot wound.
Melissa Dee Lee died after being shot three times in the chest at the England Run North Apartments complex near Heron and Elkton drives in Fredericksburg. Police described the shooting as a domestic dispute.
Gregory Lee had a criminal history that included guilty pleas for DUI, marijuana possession, hit and run and destruction of property charges dating back to 2006, the sheriff's office said. The Virginia state sex offender registry showed Lee registered as a sex offender in 1999 after being convicted on an attempted rape charge. The victim was identified as an adult.

The registry listed a Fredericksburg auto shop as Lee's employer.
No officers were hurt in Thursday's shooting. Images released by Virginia State Police showed two cruisers with bullet holes in the windshields.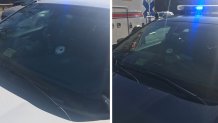 The crash in the northbound lanes of I-95 led to several hours of gridlock with only a single lane open as police investigated and crews worked to clear the debris.