What to Know
GoFundMe shut down at least six campaigns claiming to benefit the family of Robert Godwin Sr., who was killed on video posted to Facebook.
Fraud on GoFundMe is rare, the company says. The FBI says it has seen a small increase in fraud related to fundraising websites overall.
"We often see that the biggest fraud is by friends and family," GoFundMe's safety manager said.
After a 74-year-old man in Cleveland was shot by a stranger who posted video of the killing to Facebook, at least six GoFundMe pages claiming to benefit his family cropped up.
The crowdfunding website shut down all but one of the pages after verifying that page was legitimate. On that page alone, people horrified by the killing of Robert Godwin Sr. donated more than $74,000 toward a $20,000 goal in just one day.
Well-intentioned donors need to be wary of scammers trying to profit off tragedies, consumer advocates say.
"Disasters and tragedies generally attract questionable websites popping up and other untoward things that donors have to watch out for," said Bennett Weiner, chief operating officer of the Better Business Bureau's Wise Giving Alliance. He spoke at a Federal Trade Commission (FTC) conference on charity and consumer protection issues, held March 21.
GoFundMe says cases of fraud on the website are rare. The California company has computer systems that flag "high-risk campaigns," such as those created after a police officer or firefighter has died, and a team of investigators fact checks claims made on the pages, GoFundMe's Head of Trust and Safety, Daniel Gordon, said at the FTC conference.
The company guarantees that donors' funds will go to the right person. If GoFundMe determines that fraud occurred in connection to a page created after Oct. 3, 2016, donors can get as much as $1,000 back, and the beneficiary can have as much as $25,000 guaranteed. Several conditions apply.
If you want to donate, here's what you should know.
Local
Washington, D.C., Maryland and Virginia local news, events and information
How to Check If a GoFundMe Page Is Legitimate
Contact the organizer. GoFundMe recommends that anyone with questions about a campaign write a message to the organizer. If you still have questions, contact GoFundMe.
Do your homework. Get as much information as you can about who created the campaign and where the money will go, said Evan Zullow, an attorney in the FTC's Division of Financial Practices.
Search the names of the beneficiary and the campaign organizer. Can you see through their social media profiles that they appear to know each other? Did either person recently create a social media profile? That could indicate that something is off, according to Adrienne Gonzalez.
Gonzalez, a journalist who lives in Washington, D.C. and Richmond, Virginia, has tracked alleged misuse of GoFundMe for more than two years. Her website GoFraudMe.com tracks cases of people accused of faking cancer and using stock photos of supposedly sick animals to collect donations.
Donate to people you or people in your social network know. Be wary of anyone who contacts you asking for donations. "If someone reaches out to you, that's usually a big red flag," Gonzalez said.
Do a reverse image search. An image search can reveal if someone is using a stock photo or a photo of someone else.
Trust your instincts. If something doesn't seem right, it might not be, Gonzalez said.
How Much GoFundMe Fraud Occurs?
GoFundMe says cases of fraud are rare and make up less than 0.1 percent of all campaigns.
The majority of GoFundMe campaigns are for individuals' own benefit or for an immediate family member's benefit and raise less than $900, Gordon, the GoFundMe's safety manager, said.
When fraud attempts occur, they tend to fall into two main categories: outright lies or what the company calls beneficiary risk.
"There are instances where we see people lie to their families, friends, communities, media about a medical condition they don't really have," Gordon said. "That happens. That will happen whether it's on GoFundMe or off-line."
In the "beneficiary risk" cases, the reason the page was created is legitimate, but the funds are not headed to the correct person.
A sudden windfall of money raised through a GoFundMe campaign can spark a family dispute.
"We often see that the biggest fraud is by friends and family after there's all of a sudden money there when there never used to be money there," Gordon said.
The FBI says it has seen a small increase in reports of fraud related to fundraising websites.
"As crowdfunding sites increase in popularity, there has been a minor uptick in instances of fraud stemming from use of these platforms," a spokeswoman said in a statement.
D.C. police, the U.S. Attorney's Office for D.C. and the Office of the Attorney General for D.C. all said they had no recent theft or fraud cases related to crowdfunding. Police in Arlington County, Virginia, and Prince George's County, Maryland, said the same.
How GoFundMe Monitors for Fraud
GoFundMe has investigators and computer systems that try to ferret out fraud. Algorithms flag high-risk campaigns and allow the company to see anytime anyone talks about GoFundMe on social media.
If GoFundMe can determine that the first donors to a campaign are not friends or family members, the page can be flagged.
"If it's strangers who are donating first, that would be very strange behavior, and we'd know about it," Gordon said.
If GoFundMe doubts the legitimacy of a campaign, they can pause withdrawals from the account.
How to Report Suspected GoFundMe Fraud
If you believe a page is misleading or fraudulent, contact GoFundMe.
Complaints can be filed with the FTC online or by calling 1-877-FTC-HELP.
D.C. residents can report complaints to the Office of the Attorney General for D.C. "You definitely should complain to us if you live in the District and feel like you've been scammed by one of these, so we can take action," spokesman Robert Marus said.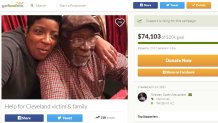 How Can I Donate to the Godwins?
GoFundMe said the Help for Cleveland Victim & Family page created by Wesley Scott Alexander of Phoenix, Arizona, is legitimate. All other pages had been removed from the site as of Tuesday morning.
"All funds raised for the Godwins will be transferred directly to the family," spokesman Bobby Whithorne said in a statement.
GoFundMe deducts a 2.9 percent payment processing fee plus an additional $0.30 from each donation received. They previously deducted an additional 5 percent platform fee but cut that fee in Nov. 2017.
Gonzalez, who runs GoFraudMe.com, said she hoped that cases of misuse of GoFundMe pages would not deter people from donating to worthy causes.
"I think people should be skeptical but they shouldn't be so completely turned off that they don't want to help people," she said.