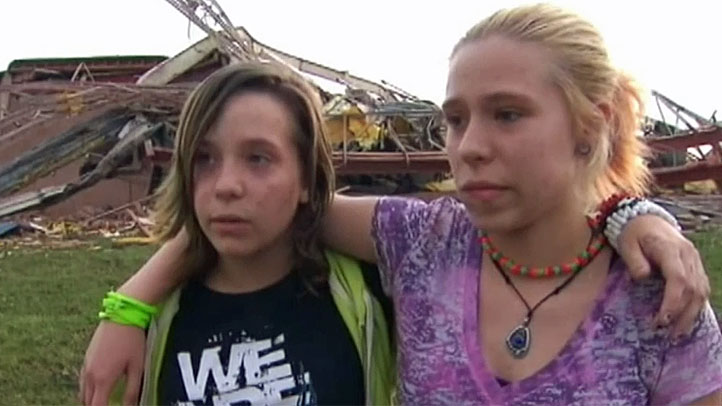 The best way to help the victims of the Oklahoma tornadoes? Give cash.
Though many well-meaning people may want to give food, clothing or gifts, relief organizations say it's money that makes their work possible. Charities such as the Red Cross and United Way use the funds to house displaced residents, to feed large groups of people and to pay relief workers who provide personal aid to people who need it.
To give, you can text "RED CROSS" to 90999 to give $10 to American Red Cross Disaster Relief, reports News4 consumer reporter Liz Crenshaw.
You can also make a $10 donation via text to the Salvation Army by texting the word "STORM" to 80888.
If you would like to donate more, visit their websites at the links above.
If you want to donate to an organization in Oklahoma, the United Way of Central Oklahoma activated its disaster relief fund today. Oklahoma Baptist Disaster Relief also is collecting money.
This organizations says donations will go straight to help those in need of tree removal, laundry services and meals.
However, when disasters strike, scammers also get ready to pounce. So beware fake solicitations for donations.
The Better Business Bureau says scammers use many pitches. First, watch out for phishing emails, which offer a link to video of the storms or damage but lead to another link asking for personal information.
Second, beware of phony text messages called "smishing". These seek donations or offer a bad link to information.
And if you receive a phone call from a number that appears to be from a charity, beware.
These days, scammers can "spoof" phone numbers to make it look like they're calling from one place -- such as Oklahoma -- when really they are somewhere else.
The safest way to donate is to contact a charity or organization on your own to donate. In times of immediate disaster relief, cash is critical.
And always remember to research a charity. Often, if a charity's website has the Better Business Bureau seal of accreditation, you're safe.
The Federal Trade Commission has more tips on making the most of your donation here.