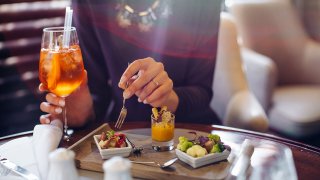 The following content is created in consultation with Restaurant Association Metropolitan Washington. It does not reflect the work or opinions of NBC Washington's editorial staff. To learn more about Metropolitan Washington Restaurant Week, visit RWDMV.com
Wine is fine, but it isn't the only thing worth pairing with a dish. Replacing the wine glass for a cocktail can also form excellent pairing options. To master the art of pairing, beverage industry experts from participating Metropolitan Washington Restaurant Week restaurants share their best advice to explore the best tastes.
Look for balance
When wining and dining, don't choose a cocktail that overpowers your dish. "The secret is to consider how high in alcohol the cocktail is," says David Kurka, Gravitas' Director of Operations. For example, to brighten up a strawberry gazpacho, he pairs it with a cocktail that looks slightly lighter than the dish like a sparkling cocktail.
We're making it easier for you to find stories that matter with our new newsletter — The 4Front. Sign up here and get news that is important for you to your inbox.
Pay attention to acidity
Consider acid (think citruses like lemon or lime) when deciding how to pair food and cocktails. As a rule of thumb you will want to create a good match by having a high acid beverage with a high acid meal. "A margarita is an excellent option for a ceviche because you get citrus in both," says Stefan Trummer, co-owner, manager and cocktail creator at Trummer's on Main. For very rich and oily dishes like foie gras and pork belly, he prefers a rich citrus drink because it acts as a palate cleanser.
Keep an eye on the alcohol level
An easy way to overserving and burning your taste buds in a five-course meal is not controlling the alcohol level of every new cocktail for each dish. "It's a good idea to minimize the amount of the overall cocktail to avoid ruining your meal," says Anastasiia Hehelska, assistant general manager of B Too. For example, serving sizes for full-spirit dinner pairings should be smaller and made up of only 2- to 3-ounce cocktails.
Add herbs
Trummer's especially enjoy serving fresh herbs in their cocktails because of its great ability to bond cocktails with various dishes. Herbs like thyme or mint add an extra layer of flavor to their cocktails and can be paired with a wide range of cocktails. For instance, citrusy and sweet cocktails paired with rosemary or cilantro and tequila are both exquisite choices. Pro tip: If you are enjoying a roast chicken and rosemary, chuck a few rosemaries into your drink.
Try regional pairing
"What grows together goes together" is an old adage applied to creating recipes, but it's also a good one for cocktail and food pairings. "Dishes and beverages that evolve together in the same region inherently make for good pairings," says Kurka. Trummer agrees and shares one of his favorites regional pairings: "Yuzu is a Japanese citrus fruit. And a nice crudos with raw fish sashimi with a yuzu cocktail work fantastic." Another popular regional pairing is tequila with mole sauce – if you want a Mexican flair.
Go the best for the season
Don't be afraid to try pairing your favorite summer foods along with what cocktail best suits the moment. "A great example of this is a light summer salad like our tomatoes, plums and ginger carrot dressing salad pair with a rosé spritzer," says Hehelska. Bubbly rosé spritzer with a bit of homemade basil syrup gives a little bit of a sweet side that goes well with plums. This, topped with some rose lemonade soda water and red basil, increases it's refreshing quality.
Want more great pairings? Enjoy a specially paired Woodford Reserve Bourbon cocktail with select dishes during Metropolitan Washington Restaurant Week, which runs from August 12 to August 18, 2019. Go to RWDMV.com and look for the Woodford Reserve icon in the restaurant listings for participating locations.