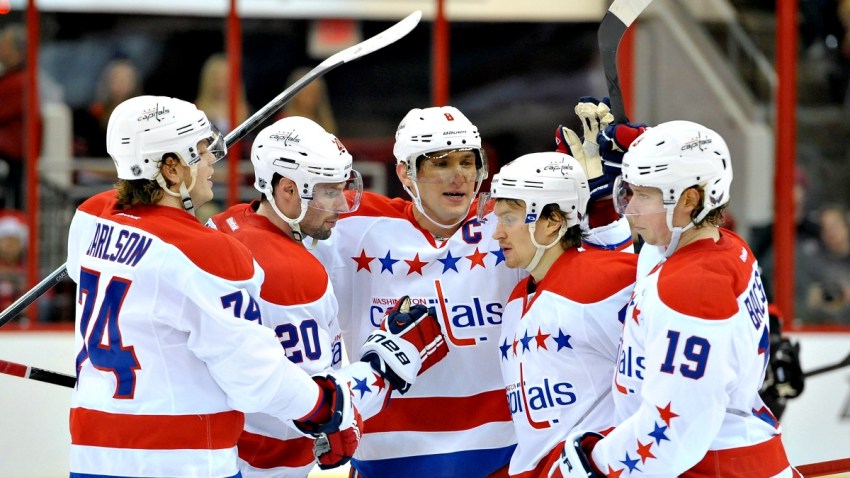 Didn't score tickets to the 2015 NHL Winter Classic? Not to worry, there are still plenty of ways to be a part of the action -- and to cheer on the Caps.
Enjoy Freebies with Fellow Fans Outside the Park:
Still dying to spend the day outside like a real Winter Classic attendee? The NHL is hosting a free fan festival
The event will take place at the Fairgrounds right outside Nats Park. Attractions include free photos, interactive games, merchandise tents featuring an exclusive selection of Winter Classic gear, and something sweet provided by Food Network star Duff Goldman.
Rock the Riverfront:
Visit Canal Park at 2nd and L streets SE, for live music, craft beer from DC Brau, food, ice skating and meet-and-greets with former Capitals players. 106.7 the Fan will also be broadcasting live, before, during and after the game. Entrance is free for fans of all ages.
Watch the Game at a Local Bar:
Surrounding yourself with fellow Caps fans is crucial to enjoying the game, even if you can't make it to the ballpark. Try meeting friends at one of these local sports bars to catch the game -- trust us, it'll be much warmer there than at Nats Park.
Bugsy's Sports Bar (111 King St., Alexandria) -- Bugsy' s owner, Bryan Joseph "Bugsy" Watson, knows a thing or two about the Capitals... because he's a former defenseman for the team! Now, Watson runs this local sports bar, which is frequented by Capitals fans during the NHL season.
Penn Quarter Sports Tavern (639 Indiana Ave. NW) -- You won't have to worry about finding a good spot to watch the game here. Penn Quarter has 32 LED flat screen TVs and, for those of you looking to really feel like you're in Nationals Park, three flat screens located outside on a heated patio.
BlackFinn (1620 I St. NW) -- BlackFinn offers several large TVs perfect for watching between bites of their affordable American food.
The Big Hunt (1345 Connecticut Ave. NW) No need to stress about paying stadium prices for beer! The Big Hunt has more than 30 great beers on tap, and most cost less around $6. Be sure to bring a crowd along -- this bar has three floors and four separate bars!
Be Social!
No matter where you are on game day, be sure to join the conversation on Facebook, Instagram, Twitter and Snapchat using the NHL's official event hashtag #WinterClassic.