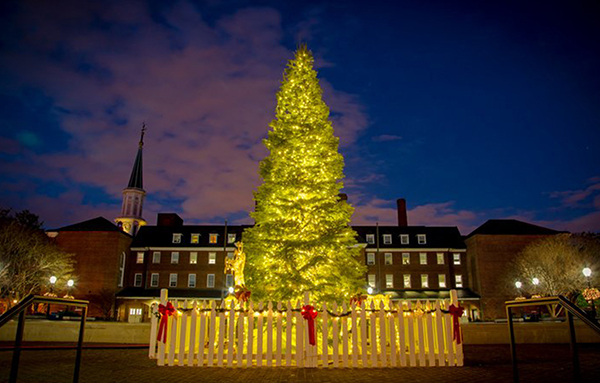 Many of the holiday traditions you know and love today have origins that go back centuries. If you want to amp up the nostalgia factor this holiday season, here are the local destinations to visit when you want to feel like you took the Polar Express back in time.
Step into Christmas past with a trip to George Washington's Mount Vernon. The Virginia estate will celebrate the holidays in 18th-century style, including candlelit tours by guides in colonial costumes and stories told from the likes of Martha Washington and other Mount Vernon residents. Throughout the season, visitors will be treated to an array of holiday activities such as dancing, fireside caroling, hot cider and a visit from Aladdin the camel. Yes, Washington had a camel. 3200 Mount Vernon Memorial Highway.
Tudor Place Historic House & Garden
Let your inner Martha Stewart shine through and make your own holiday wreath. The Tudor Place Historic House & Garden in Georgetown offers a wreath workshop and provides DIY-ers a variety of greenery from the estate's garden, such as holly, pine and magnolia to complete a one-of-a-kind holiday decoration for your home. 1644 31st St. NW.
Holidays and History at the Willard InterContinental
The Willard InterContinental hotel, located two blocks from the White House, is all decked out for the holiday season. Choral groups from around the area will perform in the lobby from 5:30 p.m. to 7:30 p.m. every night through Dec. 23. As part of the History Happy Hour coming up Dec. 14, White House pastry chef Roland Mesneir will share White House holiday traditions and offer a tutorial on making festive dessert cocktails. Cheers!
Kwanzaa Workshop in Alexandria
Kwanzaa is a holiday based on principles, which include unity, creativity, self-determination, purpose, faith, cooperative economics and collective work and responsibility. The Alexandria Black History Museum will share more on the history of Kwanzaa and how to make the crafts, gifts and recipes associated with the holiday on Dec. 8. Admission: $2. 902 Wythe St., Alexandria.
Colonial Handbell Ringers Concert
Bells and the holidays go hand in hand. The Colonial English Handbell Ringers, dressed in 18th-century attire, bring a five-octave set of nearly 80 bells to their "Babes in Toyland" holiday concert. From "Frosty the Snowman" to "Sleigh Ride," the ringers will perform the holiday classics, and audience participation is encouraged during the sing-a-long portions of the show. See the full concert schedule here.
A Victorian Christmas at the Lee-Fendall House
From decorating a Christmas tree to caroling and Christmas cards, many Christmas traditions got their start in the Victorian era. Step back in time Dec. 15 at the Lee-Fendall House, a historic house museum and garden, which will be clad in 19th-century holiday décor and offer holiday crafts, treats and an antique toy exhibit. Victorian Santa will also make an appearance for photos. 614 Oronoco St., Alexandria.
Meet Grandfather Frost, Russia's version of Santa Claus, along with his granddaughter, the Snow Maiden, at Hillwood Estate's Russian Winter Festival the weekend of Dec. 8-9. The family-friendly festival celebrates Russia's holiday traditions and will include traditional dances and music, hatmaking and a chance to tour the estate filled with art and Fabergé. 4155 Linnean Ave. NW.
Frederick Museums by Candlelight
History comes alive for the holidays in Frederick County, Maryland. Nearly 20 locations, including museums and historic houses of worship, will participate in Museums by Candlelight on Dec. 8. The self-guided tour will include seasonal music, hands-on children's activities, living history vignettes, refreshments and more. Get the full list of participating sites here. Locations throughout Frederick.
Berlin, Maryland, goes back in time for a monthlong Victorian Christmas celebration. Just a short drive from Ocean City, this small town will exude Victorian-era charm with all the trimmings, including elaborate window displays down Main Street, carriage rides and visits from Santa, through Jan. 1. Locations throughout Berlin, Maryland.
Celebrate the holidays at the National Museum of American History for a historiantalk on greeting cards during wartime, a pop-up press card workshop and, in late December, a Mid-Winter Music of Early America narrated concert.
Historic Alexandria Candlelight Tours
Tour historic sites dressed in festive decor Dec. 8 in Old Town Alexandria, including Gadsby's Tavern Museum, the Carlyle House and Lee-Fendall House. Light refreshments will be provided. 134 N. Royal St., Alexandria.
Experience Monticello by candlelight and see how the holiday season was celebrated during Thomas Jefferson's era. Throughout the season, you'll find wreath and decorating workshops, in addition to evening tours. See full list of events here. 931 Thomas Jefferson Parkway, Charlottesville.