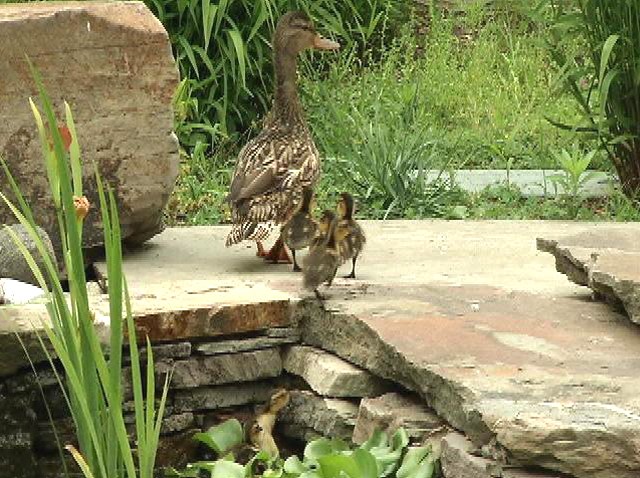 The courtyard at Edison High School used to be a popular spot for lunch, but it's more like an aviary these days, and students and teachers alike are finding themselves staring at the birds.
The pond and blooming flowers of this small suburban oasis attracted an expectant mother duck. She was discovered tending a nest there beneath a rosemary bush.
"We estimated that she stayed in that position for 20, 20-some days," said teacher Sidney Brown.
A few weeks ago, from his desk in his advanced composition class, junior Brandon Sonnefeld saw a welcome surprise.
"I was looking outside into the courtyard for my inspiration," he said, with finger quotes highlighting that last word, "and out on the cement I saw ducklings, and so I was like, 'There's ducklings in the courtyard!'"
Now the courtyard is locked off to give the mother and her seven ducklings privacy. However, a physics teacher has installed a duck cam on his window, feeding live video of the new family.
"I thought it would be easy just to put a camera out so every body in the school could take a look," Tony Rugari said.
The National Honor Society students that keep that courtyard beautiful are flattered the ducks appreciate their work.
"We helped clean it up," said junior Jirapa Samla. "We helped keep it clean for miracles like this to happen."
Edison already had a bird as its official mascot -- the eagle -- and so this mother duck has been dubbed.
Not only don't the students and faculty mind the loss of the courtyard, they hope the new tenants like it enough to return.
"Well, I did do a little research, and if Eagle is happy with her experience here, not only might she come back to the same space, but her ducklings will also come back," Brown said
The ducklings should be ready to fly away in July after the school year ends, but much of the faculty and student body hope to be around to see them take that flight.