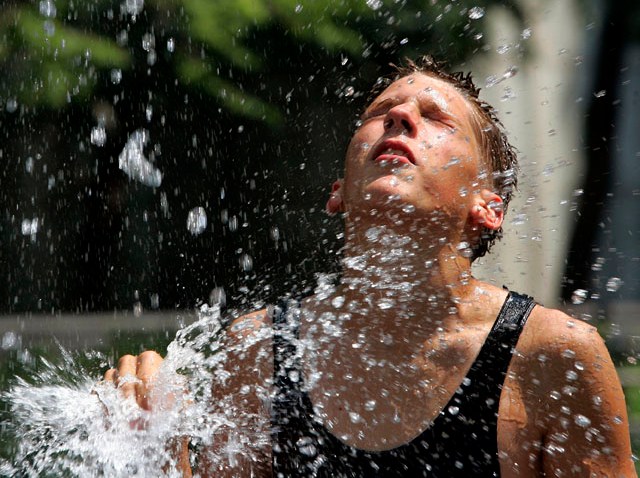 The heat wave continued today with temperatures soaring into the upper 90s in Dupont Circle. But not everyone got to lay out near the fountain and get a tan.
Despite the heat, the Fairfax Fire and Rescue Department was on the clock, wearing 75-pound gear, battling fires.
"When we have this gear on, after about three to four minutes in there, we come out and take this gear off, we're completely sopped from head to toe," said Lt. Herb Brown.
At a two-alarm blaze in the Brookfield Plaza shopping center this morning, the heat forced firefighters to work in 15-minute shifts.
"We have a canteen unit that comes here and has water and Gatorade and snacks for the firefighters," said Capt. Willie Bailey. "We also set up a rehab station where they're getting monitored."
The heat made it uncomfortable to tune up tennis skills. At Haines Point, only one of the 16 outdoor courts was being used. Longtime tennis player David Walker, who was on that one court, said he's a dedicated player.
"We don't get paid but we love the sport," said Walker. "The sun, the wind, and you just try to get the ball over the net."
Over in Georgetown, this time of year restaurants' outdoor seating areas are usually packed with customers. Not today. At The Peacock Café, the owner said customers are still coming to enjoy cool drinks, but they're staying inside.
Amber Meyer decided to bring her baby girl, June, to lunch. How was she coping with the heat?
"Not well," said Meyer. "We keep her covered with hats and sun screen. Anything to keep her out of the heat."
And for the adults? One group of ladies ordered a mango tango smoothie, a Bellini, and a mouth watering fruit mojito.
"That's delicious!" said Michele Batta, who had the Bellini.
"Fantastic!" said Helle Jeppsson, who had the fruit mojito. "Exactly what you need today."