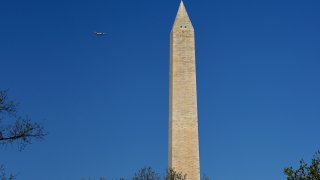 Four T-38 military aircraft were set to soar over Washington, D.C., on Friday afternoon.
The flyover was expected at 1 p.m. Such flyovers are known to be noisy enough to mute your Zoom meetings — but the T-38s went by fast.
"That was a blink and you'll miss it flyover," local author Joe Flood said.
The T-38 Talon is a twin-engine supersonic jet that has been the Air Force's primary training plane for pilots since 1961, the Smithsonian's Air & Space magazine reported.
The Air Combat Command, which is part of the Air Force, scheduled the flyover above the National Capital Region. They didn't detail the purpose.
D.C.'s Homeland Security and Emergency Management Agency first alerted about the flyover on Thursday.