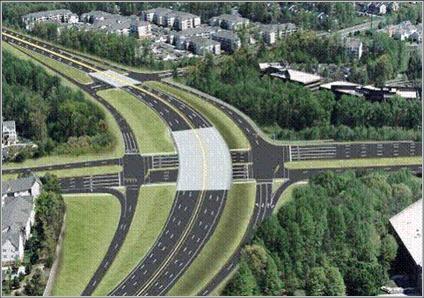 Friday, officials with the Virginia Department of Transportation broke ground on the new interchange project along the Farifax County Parkway, thanks in heavy part to more than $40 million in federal stimulus funds.
So say goodbye to the snarled intersection at the Fairfax County and Fair Lakes parkways and welcome a new interchange, which, according to VDOT, will smooth the traffic flow between the two roads.
The project will also add two new lanes to the Fairfax County Parkway, an increase from four to six lanes.
But before those two steps forward, there will be many steps back. Here are the headaches VDOT says to plan for:
Lane closures weekdays from 9 a.m. - 3 p.m.
Lane closures weeknights from 9 p.m. - 5 a.m.
Lane closures overnight weekends from 9 p.m. - 9 a.m.
No more intersection between the Fairfax County Parkway andNorth Lake Drive (drivers will have to access North Lake via Tall Timbers Drive)
A detour around the interchange intersection starting next summer and lasting for six months
The commonwealth's transportation secretary admits there will be many construction related delays but said "the 66,000 motorists who travel through the area each day will shave valuable minutes off their trips to work, school, and shopping."
VDOT also promises that drivers will see more immediate, incremental improvements in the traffic flow as the $70 million project progresses. And VDOT said we can thank stimulus funds from getting the projects all scheduled to be complete by October 2013.