Have you seen them?
Thousands of people are reported missing in the United States each year.
Below are some of their stories profiled on the National Missing and Unidentified Persons System and the Black and Missing Foundation's website. If you believe you have information on any of the people profiled on the Black and Missing Foundation's website, you can send in an anonymous tip here.
Unique Harris
Unique Harris never went anywhere without her eyeglasses. She couldn't.
At the time of her disappearance in 2010, Harris' eyesight was so bad she couldn't see five feet in front of her without them, her mother, Valencia Harris, once told News4.
But on Oct. 10, 2010, her eyeglasses were found folded on her pillow in her Southeast Washington apartment, according to The Washington Post.
Her two young sons and niece were left alone in the apartment. The night before, Unique Harris and the children had enjoyed a movie night.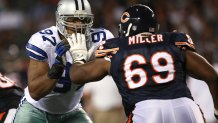 When they woke up the next morning, Harris was gone. But the devoted mother was not the type to leave the world behind.
Local
Washington, D.C., Maryland and Virginia local news, events and information
"I think someone took my daughter out of there. I think she was abducted," Valencia Harris said in an interview with News4 a few months after her daughter's disappearance.
Police have said it was possible she was taken. Her purse and ID were found inside the apartment, and her cellphone hasn't been used since she disappeared.
In a 2014 interview with Lisa Ling, Valencia Harris said her daughter witnessed a murder outside her apartment.
"She called me just emotional about what was unfolding and when she told me that she was looking out of the window, my immediate response to her was, 'Get away from the window! Get away from the window!'," she recalled.
Valencia Harris has searched for her daughter ferociously in the years since her disappearance. She's done countless interviews, passed out flyers, organized prayer vigils and often shares posts about her daughter's case on Facebook.
"Missing for 5 yrs., 8 months, & 3 days...to long for her two children to be without their mother. Have you shared Unique's information?," a post published on June 13 read.
She has yet to receive a lead that will lead her to her eldest child.
Christopher Bailey
The pavement was hot. Typical of a hazy August day in Montgomery County, Maryland.
But Christopher Bailey, 40, was walking down Route 270 in Gaithersburg shoeless, a family friend told police. That was the last time he was seen.
Bailey suffered from an undiagnosed mental disorder, according to a profile on the National Missing and Unidentified Persons System.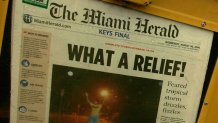 Police did not know what Bailey was wearing when he disappeared on Aug. 25, 2006. In fact, not many details about Bailey's case are available.
At the time of his disappearance, Bailey was 5 feet 7 inches tall and weighed 170 pounds. He had black hair and brown eyes.
Yuan Xia Wang
Yuan Xia Wang had only been in the United States for six weeks when she disappeared on Oct. 21, 1998. Two months earlier, she was smuggled into Dulles International Airport from China.
Klaharn Chaichana, the man who smuggled Wang into the country, told authorities she was his niece. Wang had a real Thai passport, but when Thai translators tried to talk to her, she could not communicate with them, The Washington Post reported.
Wang eventually told authorities that her parents paid Chaichana to bring her to America. investigators never found out why she was smuggled into the country.
"It doesn't look like a slavery case or an extortion case," a law enforcement official told The Post at the time.
Chaichana was arrested, and Wang was sent to live with a foster family in the Alexandria section of Fairfax County.
Wang's foster parents believed she was adjusting well to her new life despite being the only student at Holmes Middle School that spoke Mandarin. But they were never sure because of the language barrier.
At 5 feet 6 inches tall, they also doubted she was the age she claimed. Wang told police she was 12, but her foster parents believed she may have been as old as 15.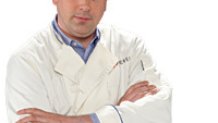 Wang was last seen on Oct. 22, 1998 getting off a school bus at her home at 3:10 p.m. A cab arrived 20 minutes later to take her to a doctor's appointment. But when it arrived, she was gone.
While Wang may have left out of fear of deportation, investigators also looked into the possibility she was abducted by someone connected to her entry into the country, according to the Charley Project.
Ten years after her disappearance, there were reports Wang may have been in the Kansas City, Missouri area. But that was never confirmed.
Sherry Walker
It was six weeks before anyone reported Sherry Walker missing.
Walker, 40, suffered from schizophrenia and had a habit of dropping out of sight from time to time. So when she left her Alexandria, Virginia, home on Oct. 22, 2003, no one thought anything of it.
Walker's neighbors thought she was checking into a hospital for mental health treatment, but no record of her was found at any area hospitals, according to the Black and Missing Foundation.
As fall turned to winter, Walker's family became increasingly worried. She had never lost contact with them for this long.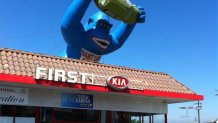 In December, her sister called police, The Connection Newspapers reported.
Several police officers saw Walker in the Arlandria section of the city in December 2003 and January 2004. But those sightings soon stopped.
Walker, who was last seen wearing a brown coat and white sneakers, hasn't been seen or heard from since.
Christian Muse
Michael Muse hasn't seen his son Christian Muse in four years.
The 19 year old was last seen on July 15, 2012 in the Glass Manor area of Oxon Hill, according to the Black and Missing Foundation.
At the time of his disappearance, Michael Muse, who used to play in the Go-Go band Rare Essence, thought that maybe his son was suffering from memory loss.
But in an interview with Examiner.com in 2015, he mentioned that a D.C. police detective contacted him, looking for Christian.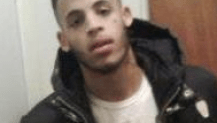 "He was looking for Christian for information regarding a child pornography ring that had exploited him and other under aged boys," Michael Muse said.
Michael Muse said he passed the information along to the detective in charge of his son's case, but nothing came of it.
"I thought that certainly it would have blown the lid off the entire case," Michael Muse told Examiner.com.
Christian was spotted three times after his initial disappearance, but in the years since his disappearance, his bank account hasn't been touched, and he hasn't called.