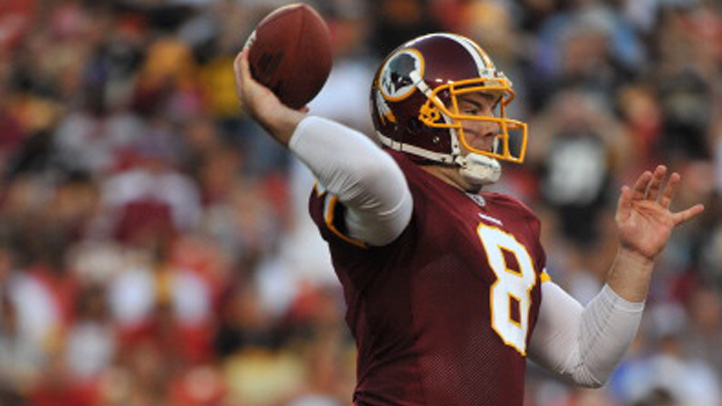 After a lengthy lockout, it was uncertain just how up to speed the Redskins could be heading into their preseason opener against the Pittsburgh Steelers. The roster underwent a massive overhaul during the offseason and several players hadn't taken a single rep in coach Mike Shanahan's system until last week.
None of that seemed to matter as the Redskins turned in a surprisingly crisp performance to beat the Steelers 16-7. It wasn't the 42-17 shellacking Washington handed the Bills in last year's preseason opener, but it was enough to prove everyone has grown up over the past six months.
The Redskins looked strong on both the offensive and defensive lines, the ground game amassed 140 total yards and the team controlled nearly every facet of the game right from the opening kickoff.
"To be honest, I was just pleased with the overall effort," said Shanahan. "I thought we played hard. I thought we eliminated a lot of mistakes. I thought some guys made some plays."
And most importantly the quarterback controversy may be over before it even really began.
With John Beck on the sidelines nursing a an injured groin, Rex Grossman played the entire first half, going 19-26 for 207 yards with a touchdown pass to Santana Moss.
Grossman, usually a turnover machine, was a model of efficiency, completing passes to seven different receivers.
"I thought [Grossman] did a very good job," Shanahan said. "He managed the game well. He showed a lot of poise in the pocket."
Beck might want to keep an eye on the other quarterback vying for playing time as well. Kellen Clemens led the offense on three scoring drives---all field goals by Graham Gano---and showed a solid grasp of the playbook. Combined, Grossman and Clemens threw for 312 yards against the defending AFC Champions.
"I expected to play well, but football is a team sport and everyone played well tonight," said Grossman.
Shanahan had to like what he saw despite the fact Washington failed to finish several promising drives with touchdowns. Error-free football is a goal for any offense, but it's especially important for the Redskins as they attempt to overcome a decade's worth of offensive futility. Tonight: zero turnovers, zero sacks, zero offensive penalties.
That's a start.
"We've worked hard in the short duration of time that we had [before preseason]," said receiver Donte Stallworth. "We made the most of it and coach Shanahan always preaches doing the little things right and I think we made a step in the right direction tonight."
But it's only a step. Preseason success ultimately means nothing once the real games get started.
"My career preseason [record] in St. Louis was 6-6. I also had like six wins and 42 losses once we got to the regular season. It doesn't mean much," said defensive end Adam Carriker. "You don't want to look bad, but I think [the preseason] is overhyped sometime."
Overhyped or not, Carriker and the defense came out and stifled the Steeler offense, limiting them to 186 total yards and 12 first downs. Free agent pickup Stephen Bowen had a sack, Jarvis Jenkins continued his emergence and the defense as a whole appeared to be significantly improved.
Shanahan told reporters after the game the Redskins are a "better football team" than last year. Despite the lack of star power and low expectations from outsiders, it's tough to disagree with that.
"I was very impressed," said linebacker Brian Orakpo. "One thing about it, we are just trying to continue to grow, continue to learn from each other and play together as one, and I'm very excited about where we are right now."