Alberta Ellis ran a hotel in the 1950s that served African Americans who had nowhere else to go.
She knew what it was like to be turned away because of the color of your skin. It happened to her own family as they drove more than 1,400 miles from Missouri to California.
"They would usually say there was no vacancy, even though their sign would be in neon lights saying vacancy," Ellis' granddaughter, Elizabeth Calvin, remembered.
Ellis reported the hotels' actions but that did little to change anything, her granddaughter said.
Determined to provide a safe space for African-American travelers, Ellis put together $10,000 in cash and bought an old hospital in Springfield, Missouri, at a city auction. She opened a small business she called Alberta's Hotel.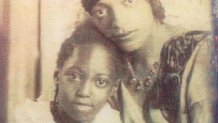 Calvin believes her grandmother purchased the hotel around 1954. That year, one of the first ads for the business appeared in "The Negro Motorist Green Book."
Local
Washington, D.C., Maryland and Virginia local news, events and information
The book, created in 1936 by Victor H. Green, helped black travelers across the country avoid "difficulties and embarrassment" while on the road. From 1936 until 1967, the "Green Book" listed hotels, restaurants and other establishments across the country that welcomed black customers.
The "Green Book" was more than a revolutionary way for African Americans to travel in this country; it was an economic engine for burgeoning entrepreneurs, particularly black women.
In Washington, D.C., black women were also running successful businesses, and many of them were advertised in the "Green Book."
"This is a time when there's very little ways for a black woman to move forward economically and professionally outside of domestic work," said Jennifer Reut, an architectural and landscape historian who runs a blog that maps "Green Book" sites.
'You Couldn't Go to a Regular Hotel'

Ellis was already the owner of one successful business when she opened "Alberta's Hotel."
But she was inspired to open the hotel because African Americans driving along Route 66 didn't have many options if they stopped in her city.
"She built an empire, really, a tiny empire from this extremely skilled ability to look at the whole market and see what the need was," Reut said.
"You couldn't go to a regular hotel, so she probably saw it as a good business opportunity, as well as hospitality," Calvin added.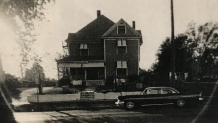 The hotel was located along the business route for Route 66, an easy stop for travelers who were headed west. To get the word out, Ellis placed an ad in the "Green Book."
Calvin said her grandmother was an avid traveler and likely knew about the "Green Book" before she advertised in it.
Soon, Alberta's Hotel was popular with travelers who passed through Springfield, including singer Nat King Cole and Harlem Globetrotter Reece "Goose" Tatum.
Running a successful black-owned business in the 1950s didn't come without complications. Sometimes police officers brought prostitutes to the hotel to try and give it a bad name, Calvin said.
"My brother remembers when white men would come to the hotel late at night with women, and my grandfather and grandmother would send them away," Calvin said.
"This is not that kind of establishment. Don't come in here looking for that," Calvin said her grandparents told them.
A land dispute also kept Ellis in court for much of the time she owned the hotel.
"There was a wealthy man in town who was slated to get that hospital. But when she showed up to the auction with cash, they had to sell it to her," Calvin said.
After about 10 years, Ellis lost the hotel to eminent domain.
She didn't live much longer after losing the hotel.
"Once that case was settled, she got sick," Calvin said. "She passed in 1966. She was only 56 years old."
'That Was Like the Black Downtown'
In Annapolis, Maryland, Florence Carr Sparrow and her sister, Elizabeth Carr Smith, ran two successful beach resorts. For nearly 50 years, Carr's Beach and Sparrow's Beach were safe havens for African-American families looking for a summer escape.
Though they were already popular on their own, both beaches were listed in the "Green Book."
In Washington, D.C., African-American travelers flocked to the Northwest quadrant for food, fun and somewhere to stay.
"That was the main black area that had the most amenities. Theatres, clubs, florists. That was like the black downtown," said author and historian Patsy Fletcher.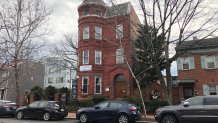 In the 1930s, Jean Clore opened the Old Rose Social Club on the corner of 7th and T streets NW. A few blocks away, she opened Hotel Clore.
Clore was young, attractive and had a knack for business, a 1938 article published in The Baltimore Afro-American said.
"Ordinarily it takes the average club operator several years to build up such a business ... but Miss Clore has made her local reputation only since 1936," the article said.
The hotel became a home for both travelers and celebrities performing at the nearby Howard Theatre.
Clore was active in the National Council of Negro Women and other organizations.
"She deserves recognition ... She was quite impressive," Fletcher said.
Near Logan Circle, Myrtle Williams ran the Cadillac Hotel. The hotel on the 1500 block of Vermont Avenue NW opened in 1941.
But like Alberta's in Missouri, a cloud hung over the Cadillac Hotel and other black-owned businesses in D.C.
Williams ran the Cadillac Hotel as a decent, respectable business, Fletcher said, but she was repeatedly accused of supporting prostitution. Like Ellis in Missouri, Williams discovered that undercover police officers brought prostitutes into her business and then arrested her guests if they solicited one of the women.
In 1977, Williams and a group of African-American residents in D.C.'s Logan Circle neighborhood organized to fight attempts to push them out of the area.
People who wanted to buy the Cadillac Hotel's building repeatedly challenged the business' operating license so they could force the hotel out and later sell the building to middle-class whites, Fletcher, the historian, said.
"Many urban renewal projects in the '60s targeted black neighborhoods," Reut, the architectural historian, said. "Lots and lots of 'Green Book' sites ended up disappearing because of this."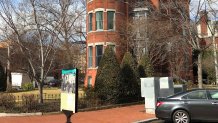 The passage of the Civil Rights Act also hurt some black-owned businesses.
As African Americans began going to places where they had been previously denied, some businesses were not able to bring in the revenue they needed.
The owners of many black-owned businesses were prepared, Reut said.
"Everyone understood that when segregation was happening, these instruments were needed. But that when the time came -- and they were always pushing for this -- they won't need these things anymore. People understood that this was going to be the end of their business," Reut said.
Today, many businesses that were listed in the "Green Book" are gone and replaced with parking lots and shopping centers.
In D.C., some of the buildings that housed these businesses still stand.
"The ones that tend to still be around are the ones that are in thriving business districts like Washington and the U Street Corridor," Reut said. "They haven't knocked these down yet."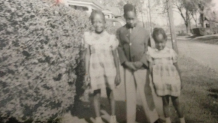 The former home of Hotel Clore, located at 614 S Street NW, is now a multi-denominational church. The former home of the Cadillac Hotel, in Logan Circle, is now a luxury condominium complex.
While many of these businesses no longer exist, the entrepreneurial spirit of these women lives on. Decades after Ellis' hotel shut down, her granddaughter moved back to Missouri and is following in her footsteps.
"I bought an old horse stable and turned it into five units, and we rent out some of them as a B&B," Calvin said. "I learned from my grandmother."