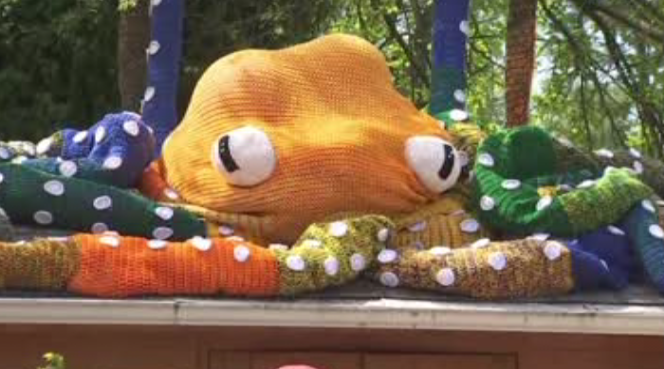 A 17-foot-tall crocheted octopus was paraded to its new home at Takoma Children's School on Tuesday, where it now sits on top of the playground shed.
The City of Takoma Park commissioned fiber artist Stacy Cantrell to create the massive "Oct O'Clock" structure last fall. It took her over a month to complete, crocheting 600 suction cups onto its long legs.
Until Tuesday, it lived at the top of the Takoma Clock Tower. Takoma City held a competition where local citizens could submit essays or video describing why they wanted the octopus, according to a press release. The winners were the children at Takoma Children's School, who have since renamed the creature "Octoshedopus."
"This right here is why I do public art," said Cantrell on Tuesday after the octopus was installed on top of the playground shed. "I love to get the community involved."
The octopus is made with triple-ply acrylic yarn to make it weather resistant, and is stuffed with recyclable materials. It will remain at the school indefinitely.