A massive water main break closed a portion of M Street Northwest in the heart of Washington D.C.'s Georgetown neighborhood Friday morning.
The water pressure from the broken pipe was so powerful that it blasted apart pieces of the sidewalk on M Street and scraped paint off the exterior of a store building. It also knocked over a light.
Images and video from the scene show a burst of water shooting from the ground near the Banana Republic store on M Street. The water flowed downhill along Wisconsin Avenue, flooding Water Street below, photos showed.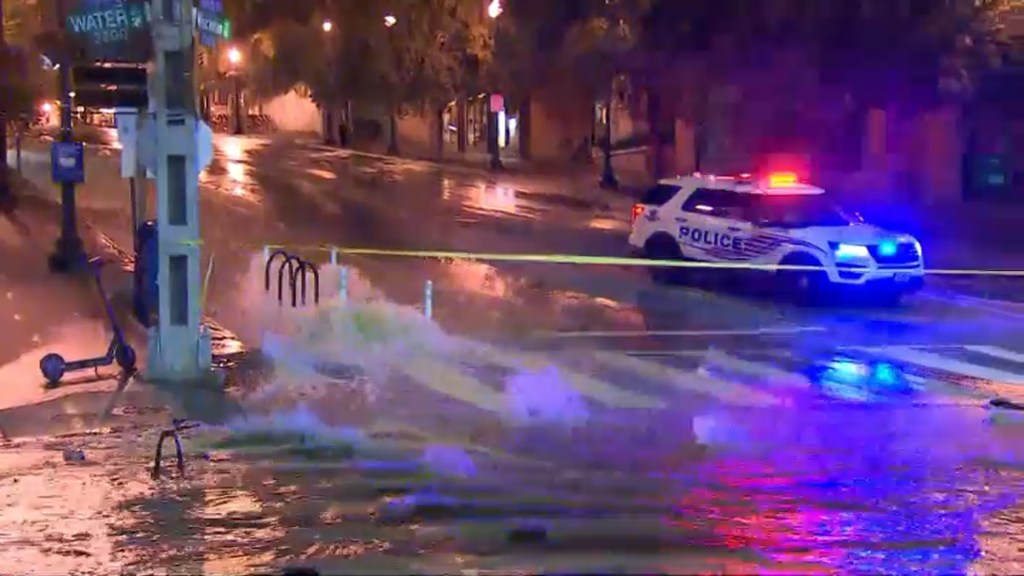 Our redesigned local news and weather app is live! Download it for iOS or Android — and sign up for alerts.
Traffic was rerouted throughout the morning on M Street between Potomac Street and Wisconsin Avenue NW and in the 1000 block of Wisconsin Avenue, as crews worked to contain the break.
Water gushed steadily for about two hours, and crews remained hard at work at midday, digging up debris to reach the pipe.
"The pipe that broke was an 8-inch pipe, and there's a lot of water traveling through an 8-inch pipe," said Vincent Morris of D.C. Water.
Water remained shut off to about 20 businesses in the area as of midday.
"You can't repair the pipe when water's gushing through it," Morris said.
D.C. Water said they hoped to restore water service to those businesses by early Friday afternoon.
Morris said they were working to figure out the cause of the break. The pipe is likely between 100 and 130 years old, so age could be the culprit, or construction, he said.
"Recently we've had a rash of pipes breaking because they've been hit by people who were excavating, who are digging, either for construction work or other utilities," Morris said.
The break was first reported by D.C. Water at about 5 a.m.