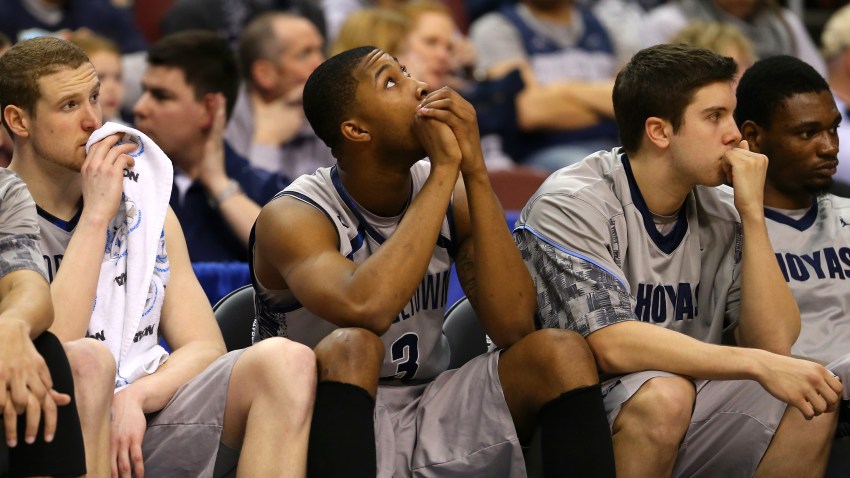 I think it's safe to say that you know full well who Florida Gulf Coast is now. The high-flying dunks, the coach's former supermodel wife and the upset victory over Georgetown Friday have put the Eagles on the map (which is good, because I had no idea where Florida Gulf Coast actually was -- it's in Ft. Myers).
Unfortunately for the Hoyas, they made history as well, but not the good kind.
Friday, Georgetown became the first team to be eliminated in four straight NCAA tournaments by a team seeded at least five spots lower:
Friday: Lost to No. 15 Florida Gulf Coast as a No. 2 seed
2012: Lost to No. 11 N.C. State as a No. 3 seed
2011: Lost to No. 11 Virginia Commonwealth as a No. 6 seed
2010: Lost to No. 14 Ohio as a No. 3 seed
And that does not include 2008, when the second-seeded Hoyas lost to the 10th-seeded Davidson Wildcats.
Since reaching the Final Four in 2007, the Hoyas have not made it out of the first weekend of the tournament despite being a top-three seed four times.
Florida Gulf Coast's 10-point victory is the second-largest margin of victory ever for a 15-seed over a 2-seed. Of course, there have only been seven such upsets, but still, that's bad.
I think the question needs asking: Is John Thompson III's job at stake? Should it be?
---
Follow Adam on Twitter @AdamVingan and e-mail your story ideas to adamvingan (at) gmail.com.