This year, we've seen goslings stuck in a storm drain and a blind 12-year-old dachshund lost on the side of the road, 100 miles from his home.
Now, a goose couple is settling down in a very busy and precarious location.
The nesting geese were spotted in between the inner and outer loop of the Capital Beltway in Alexandria, next to the ramp to 95-South.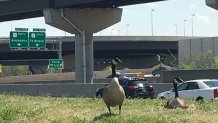 Now, they're on the radar of a wildlife protection group, Citizens for the Preservation of Wildlife.
Alexandria resident Amanda Bicknell brought the nest to the group's attention after snapping some photos of the birds.
The group responds to calls from concerned citizens like Bicknell about nests in tricky spots, and they rescue and rehabilitate ducks, geese and other large birds in Northern Virginia. They try to help the family move once the eggs hatch, too.
Local
Washington, D.C., Maryland and Virginia local news, events and information
Earlier this month, News4 followed Citizens for the Preservation of Wildlife employee Robin McClary. She has devoted the last 20 years to monitoring nests built in bad places in Northern Virginia and to protecting all wildlife.
Federal law protects the nest from being moved, McClary says. That means geese that have nested in the parking lots of CVS and WaWa get to stay.
If you'd like to support the cause, the organization is looking for more volunteers and fundraising to build a bigger aviary.