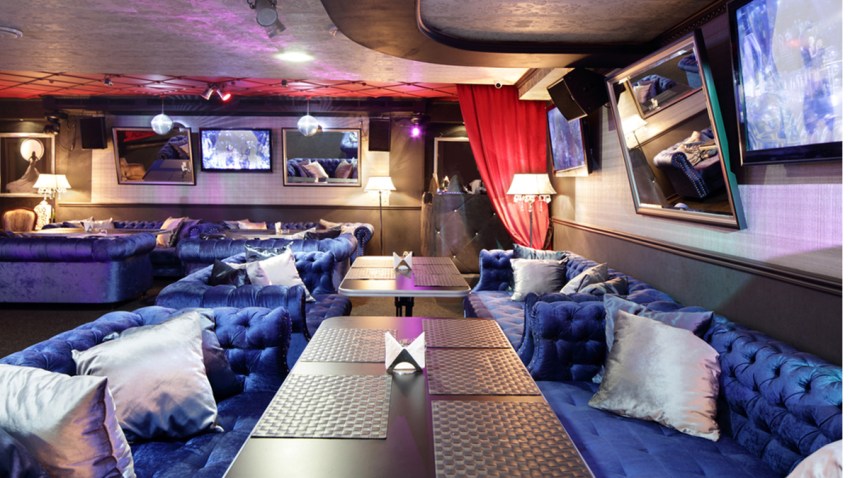 Election got you stressed out? All over D.C., bars and restaurants are hosting election night watch parties for those who need to unwind -- but still want to keep up with the news.
Check out these spots to take advantage of themed drinks, menus and cocktail "polls" as you wait to see who'll be moving into the White House next.
Barcode (1101 17th St. NW)

DT Nation, an event management company in D.C., and Party Politics will host Judgment Day, an all-night event to wait out the results of the election. The night will be broken up into three parts: happy hour from 5 p.m. to 8 p.m., election results from 9 p.m. to 11 p.m., and the after-party starting after 11 p.m. and until 2 a.m. Enjoy drinks and music from DJs such as DJ Jahsonic, DJ Kerim, Malik the Drummer and Harry Hotter.
BlackFinn (1620 I St. NW)
If you are one of the first 75 people who arrive (and you have RSVP'd on Facebook), you'll get a free drink on the house. Didn't make it in time? There will still be $3 beers, $4 cocktails and $5 shots from 4 p.m. to to close.
Busboys and Poets (Various locations)
Each Busboys and Poets location will host an Election Day Watch Party 2016. In addition to screening the election results, there will be drink specials and "more surprises" in store. Check their event page for more details.
Democracy Prep Congress Heights (3100 Martin Luther King Jr Ave. SE)
Democracy Prep Congress Heights is hosting a election night watch party for the community with free admission, pizza and activities for children. Doors open at 7 p.m.
Kingbird (2650 Virginia Ave. NW)

Located in the Watergate Hotel, Kingbird -- the hotel's restaurant offering American cuisine with a French twist -- has an entire election night-themed menu planned for Tuesday. Grab a date and order dishes such as Hillary Clinton's Pickwick's Oliveburger or Trump's Battered Toast Crispy Fishwhich, and split the Winner Take All for dessert. The bar will serve cocktails named for things that happened along the campaign trail.
Maryland Live! Casino (7002 Arundel Mills Circle, Hanover, Maryland)

The Rams Head Center Stage at Maryland Live! Casino will host an election night watch party with prize drawings every hour starting at 7 p.m. Attendees can win VIP DC tourist days, a tour of Philadelphia, a trip to Canada or Free Slot Play. At the casino, any Live! Rewards members who earn 500 points on Tuesday can swipe their card at any promotional kiosk to reveal Free Play of up to $5,000.
Penn Social (801 E St. NW)
Make sure you can see the election result with Penn Social's 22-foot screen. The night also includes special happy hour specials which run from 4 p.m. to 7 p.m. in addition to $4 Samuel Adams beers all night.
Quarter + Glory (2017 14th St. NW)
Cast your ballot during Quarter and Glory's election week happy hour by choosing your favorite election-themed cocktail at this 14th & U spot. Your vote for The Undecided punch, Do the Donkey, Elephants Never Forget, You Be Hillin' or Get Trumped enters you in their election day raffle for a private cocktail class or a bottle of Macallan 12-year-old whiskey.
Quill (1200 16th St. NW)

Make sure to don your "I Voted" sticker if you plan on spending election night at Quill, The Jefferson's upscale cocktail bar in Logan Circle. From 6 p.m. to 9 p.m. on election night, anyone wearing the sticker will receive half off their themed drinks. Hillary Clinton supporters can order any mixed drink with Rock Town Vodka, made in Arkansas where Hillary became first lady of the state when Bill Clinton became governor in 1979. Donald Trump supporters can indulge in the Holy Grail Mocktail, an allusion to the candidate's sobriety.
Shaw's Tavern (520 Florida Ave. NW)
Don't want to miss any election results? Join Shaw's Tavern at 5 p.m. to enjoy results on the bar's 11 televisions with sound. The watch party also includes half-priced burgers and pizzas as well as drink specials.
Teddy and the Bully Bar (1200 19th St. NW)

Enjoy Trump steak bites or Clinton barbecue sliders at this south-of-Dupont bar that pays homage to 26th president Theodore Roosevelt. In addition to themed food, you'll find contests, special guests and giveaways. If you've been playing along with the bar's Cocktail Voter Poll, stop by to see whether the Trump Tower or the Clinton Email Box has been the more popular drink during the election cycle. Keep in mind there is a $50 minimum per person during Election Night. RSVP to reserve your spot.
Town Danceboutique (2009 8th St. NW)

The Human Rights Campaign, along with Victory Fund, which works to elect LBGT leaders to public office, will host an election night watch party at Shaw's Town Danceboutique. There will be food, dancing, drinking and big screens to watch the action. Doors open at 6 p.m., but make sure to RSVP -- seating is limited and on a first-come, first-served basis. Entrance is free, but there's a $10 suggested donation to pay for an annual Human Rights Campaign membership, which also comes with a thank you gift.
Did we miss your favorite spot? Tell us @dcscene!
ALSO SEE: After Casting Your Vote, Cash on These Election Day Deals, Freebies