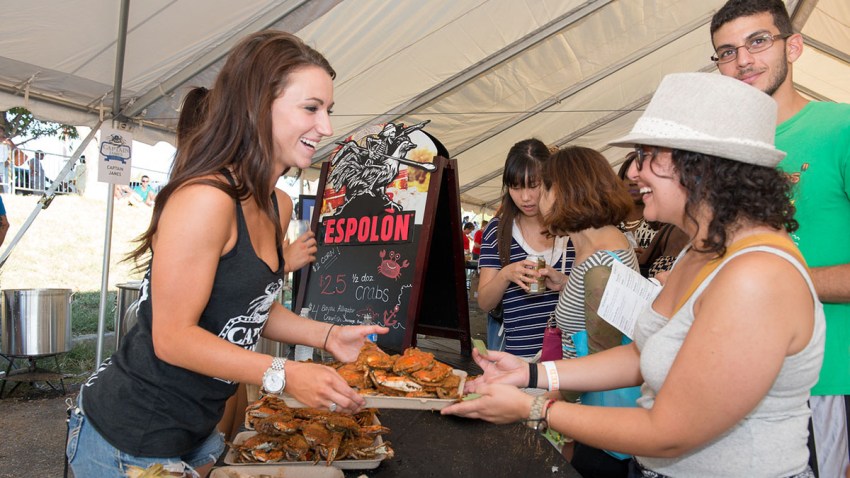 It's looking like Hurricane Florence's effects won't hit D.C. after all. Maybe some of your weekend plans got switched up — after all, the H Street Fest was rescheduled — but there's still lots to do.
But first:
-- Nothing beats free. We've got you covered on fun, free and cheap things to do in Washington, D.C., Maryland and Northern Virginia.
-- Fall got you feeling festive? Check out these fall festivals across the D.C. area.
-- Outdoor movies don't end because summer does.
Here are our top picks for your weekend:
AFI Latin American Film Festival
Sept. 13 to Oct. 3, AFI Silver Theatre in Silver Spring
Catch some of the breakouts of Latin American, Spanish and Portuguese cinema, including crime drama "Birds of Passage," a documentary on Bolivian hip-hop artist Abraham Bojórquez, and a Latin take on Shakespeare's "Othello" titled "Pablo's World." The festival will also offer a number of screenings with special receptions, Q&A sessions and cocktail hours. See a full schedule on the theater's website. Tickets cost $15 for non-members, and there are $200 passes if you plan on attending many of the movies and events.
The Black Cat 25th Anniversary
Friday and Saturday, doors at 7 p.m., The Black Cat
Legendary punk venue The Black Cat is celebrating its 25th birthday with two nights of music. On Friday, Subhumans, Ocampo Ocampo & Watt, Ted Leo and more take the stage. Saturday's bands and artists include Ex Hex, Gray Matter, Hurry Up and Algiers.
Maryland Renaissance Festival
Weekends through Oct. 21, Crownsville, Maryland
Hear ye! Hear ye! Don your best 15th-century garb and grab a turkey leg at the Maryland Renaissance Festival. Performances, including jousting, music, science demos and Shakespeare, are plentiful. Check out the schedule in advance so you don't miss your favorite thing. Tickets are discounted through Sept. 9; they cost $19 for adults.
Sports and Sporting
Sunday, 1 p.m. - Home opener versus the Colts
D.C. United
Sunday, 1 p.m. - Against the New York Red Bulls
Your Friday
Star Power: Inside the Michelin Guide
Friday, 11 a.m., Ripley Center
The chefs leading some of D.C.'s most respected and Michelin-starred restaurants, including Pineapple and Pearls, Plume, Sfoglina and Kinship, will talk with News4's own Eun Yang about the local dining scene.
Radical Inclusion and Tales from the Playa: Talks on Art, Inspiration, and the History of Burning Man
Friday, 10 a.m. to 6 p.m., Smithsonian American Art Museum
Five original founders of Burning Man share their stories at this free, all-day examination of the festival's past, present and future. You can also catch short films, Q&As and panels. See the full schedule here.
Check out our first look at the Burning Man exhibit at the Renwick here:
Your Saturday
Baltimore Seafood Festival
Saturday, 12 p.m. to 7 p.m., Canton Waterfront Park in Baltimore
Local restaurants will be slinging crab, with live music playing through the park. Tickets start at $15.
DC Wine Fest
Saturday, various sessions, Big Chief
Sip as much wine as you can, starting at $35.
Force of Nature Pop-Up Market
Saturday, 11 a.m. to 3 p.m., Washington, D.C., REI Store
At this pop-up featuring female artisans and their businesses, you can browse local products while sipping coffee from La Colombe or boozy brunch beverages from Republic Restoratives.
Intro to Wilderness Backpacking
Saturday, 9:30 a.m. to 1:30 p.m., Rock Creek Park Nature Center
Learn the basics needed to head out on a wilderness backpacking trip, including how to choose equipment and how to plan your trip. Tickets start at $69.
Your Sunday
Sweat In Shaw
Sunday, 12 p.m. to 4 p.m., Shaw
Sweat out your Saturday night with three back-to-back fitness classes offered by studios including District Pilates, Yoga Shala, Off Road, Fuel, Reformation and more.
Profs & Pints: The Women of "Hamilton"
Sunday, 6 p.m., The Bier Baron Tavern
Marymount University assistant professor of history Cassandra Good will dive into the true histories of the women surrounding Alexander Hamilton. If you can't afford tickets to the musical's few remaining performances at the Kennedy Center, you may be able to scratch the itch with this $13.41 ticket.
2018 Wine Harvest Soiree
Sunday, 12 p.m. to 4 p.m., City Winery
The best wines offered by members of the Association of African American Vintners are coming to City Winery. Tickets start at $65.
La Fiesta del Barrio
Sunday, 11 a.m. to 4 p.m., 3166 Mt. Pleasant Street NW
For the La Clinica del Pueblo's 35th birthday, they are throwing a festival with dancing, music, art and activities. It's free to attend.